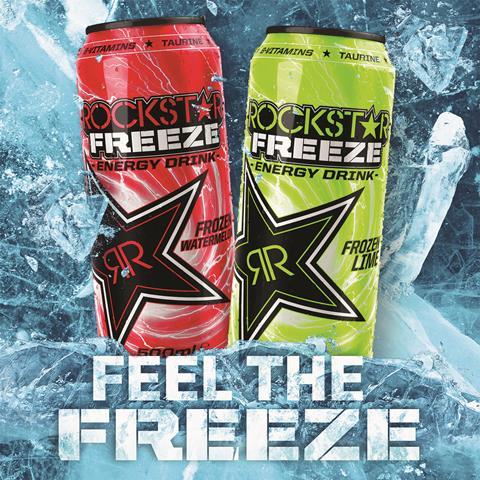 AG Barr is expanding its Rockstar range of energy drinks with the launch of Rockstar Freeze, a new variant that provides a 'cooling sensation' in the mouth.
Launching in August in two flavours – Frozen Lime and Frozen Watermelon – the drink contains a menthol flavouring along with caffeine, taurine and B vitamins. It is available in standard 500ml cans (rsp: £1.91) and 99p price-marked packs.
POS materials including standees, posters, shelf barkers and displays units will be available to support the launch. AG Barr said that in market research, 80% of consumers had said they would buy.
The 500ml 'Big Can' format of energy drink accounts for 47% of the £1bn category, and is growing at 11.5% - compared to 2.7% for energy drinks as a whole [Nielsen 52 w/e 20 June 2015]. Sales of Rockstar are up 14.1% to £58.3m [IRI 52 w/e 25 April 2015].
"Energy shoppers love to try new drinks and exciting new flavours and concepts are the key drivers of Rockstar's success," said AG Barr marketing head Adrian Troy. "The brand is continuing this trend with this innovative new variant.
"Consumers love to drink ice-cold drinks. Rockstar Freeze delivers a deliciously cool sensation that adds a new dimension to the drinking experience."
Rockstar is not the first energy drink brand to create a 'cool' variant using menthol – American company Slap Energy Drinks formerly produced a similar product called Slap Frost. Slap Energy Drinks ceased production in 2012.