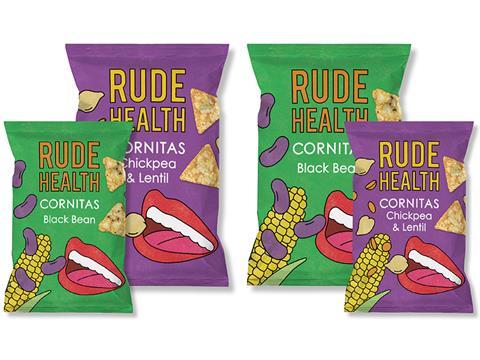 Rude Health is breaking into the snacking market with its first crisp alternatives.
Cornitas, chips made with a blend of corn pulses and oil, will be available in two variants: Black Bean and Chickpea & Lentil (rsp: 99p/30g £1.99/90g)
The brand said these new crisps are "great for topping, dipping or eating straight from the bag".
'We're really excited about the launch of our new Cornitas." said Rude Health co-founder and brand director Camilla Barnard.
"We couldn't help ourselves from entering a category where we saw scope to launch something really premium. Typically snacking brings with it a compromise on ingredients, but with Cornitas, we've (as ever) been fastidious about not letting any artificial anythings into the bag."
Cornitas will be available from Whole Foods, Planet Organic and on the Rude Health website from May and in Ocado shortly after.