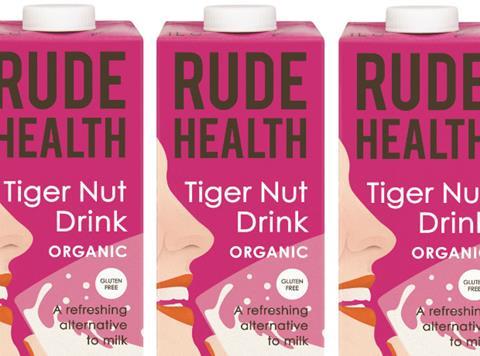 Rude Health has launched a new Tiger Nut Drink to add to its portfolio of milk alternatives.

The SKU is made with 6% organic tiger nuts, spring water, organic rice and sea salt, and will be available from Waitrose and Ocado from the last week in September (rsp: £2.50/1-litre).

Rude Health has emphasised that its drinks, including this new variant, are not meant to be a replacement for dairy, but instead a dairy alternative.

"We're very lucky these days to have a vast choice of dairy and non-dairy," said Nick Barnard, co-founder and managing director of Rude Health. "We recently carried out a survey at Rude Health trying to understand why dairy-free was becoming so popular.

"It turns out that many of us like to try new things just because we like to experiment. But other people told us they were opting out of dairy because it was better for them. And that's what really worries us - the assumption that dairy-free is automatically healthier."

In July, Rude Health teamed up with brands including Estate Dairy and Hurdlebrook Dairy in a joint breakfast event to celebrate both dairy and dairy alternatives, and discuss what constitutes healthy.

The brand's new variant follows the launch of Rebel Kitchen's Mylk, which, unlike Rude Health, has positioned itself directly against cows milk. The brand's whole, semi-skimmed and skimmed variants aim to "replicate the qualities of cows milk" by blending several milk alternatives together, including varying levels of coconut cream to mirror the richness of each milk.