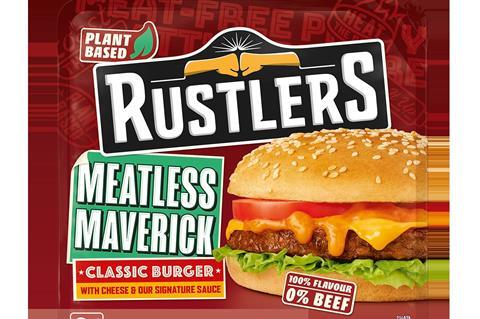 Rustlers is boosting its plant-based offer with a new 'Meatless Maverick' burger.
The NPD is billed as mimicking the brand's biggest-selling Quarter Pounder SKU, and includes the same burger sauce.
The patty itself is made from pea protein. However the launch is not fully vegan due to the cheese slice included in the pack.
It will hit Tesco, One Stop and Booker in November (rsp: £2).
It would be sold at the same price as the Quarter Pounder SKU in a bid to tap "the 52% of people who find affordability a challenge when committing to a food lifestyle", said Adrian Lawlor, CMO at Rustlers owner Kepak. "Meat-mimicking products tend to carry a price premium vs the equivalent meat version, which acts as a deterrent."
The Meatless Maverick burger would provide "an easy swap while behaviourally fitting existing habits, therefore requiring less of a conscious shift", he said.
It's not Rustlers' first attempt to woo meat-free shoppers: 2019 marked the brand's first move outside meat, when it launched its first vegetarian burger with a Moroccan Falafel patty.
"Research shows there is a perception that products within the meat-free category require long cooking times, with not much in the way of tasty, quick and treat options," added Lawlor.