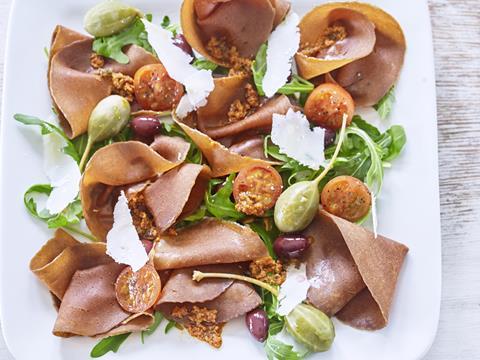 Sacla' is bringing its Bionaturae sister brand to the UK for the first time with a vegan-friendly range made from a proprietary meat alternative.
All items are created using Mopur, a high-protein wheat by-product invented by an Italian company of the same name. It is formed through a fermentation process using a yeast strain "specifically formulated to produce food with unique characteristics". The final trademarked product promises a consistency "similar to that of a beef fillet", and can be eaten on its own or blended with other ingredients.
Bionaturae, founded in Italy in 1994 to offer organic and free-from options, will make its UK debut in June with a seven-strong chilled lineup comprising two types of 'deli-style' slices, three variants of slider, ravioli, and pasta sauce. The premium products are set to be distributed by Euro Food Brands.
The launch was an opportunity to offer a wider selection to consumers who chose a vegan, vegetarian, flexitarian or high-protein diet, said Clare Blampied, MD of Sacla' UK. "There isn't that much choice around at the minute."
It was for this reason the Bionaturae range would go "beyond Italy" with a wider variety of cuisine, she added. "We didn't want to limit it by its geography. Once we've established the business, you'll see lots of NPD rolling out."
Sacla', which will produce its new products under licence from Mopur, had chosen not to launch via its core brand because it was "very ­specific about its Italian heritage" in the UK.