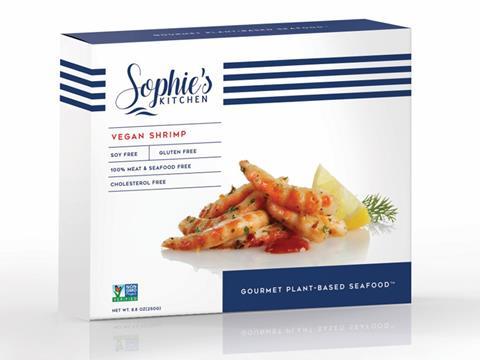 Sainsbury's has added vegan prawns in response to an 82% increase in its customers searching for vegan products online.

The prawns (rsp: £3.50 for 250g) from seafood alternative brand Sophie's Kitchen made their UK debut in Sainsbury's stores as part of the fourth expansion of its plant-based lineup since the range was revealed almost a year ago. They are designed to deliver the succulent taste of prawns while being vegan, as well as gluten and soy-free.
The product was revealed to customers on 8 January from Sainsbury's Twitter profile by asking them to identify which one of two prawns in the three-second clip was vegan.

They also come alongside Sophie's Kitchen Smoked Salmon (rsp: £3.50 for 113g) and are available in stores now. They will be available online from 21 January.

The supermarket introduced them within a raft of 25 new vegan-branded and own-label items, including three own-brand Love Your Veg vegan pizzas - BBQ Jackfruit & Mushroom, Spicy Masala Chickpea and Roasted Butternut & Charred Broccoli (rsp £3.80), and two vegetarian pizza bases made with beetroot and kale.
Veganuary news just in: we're selling VEGAN prawns. Can you tell which one's vegan?

— Sainsbury's (@sainsburys) January 8, 2019

The extension also saw Sainsbury's become the first British supermarket to offer Canadian meat alternative brand Gardein, which is due to roll out next month.

"While meat alternatives have seen a real boom in popularity this past year, fish and seafood alternatives are still relatively new to the market - so we're really proud to be extending our range for customers with these exciting, flavoursome products and can't wait to hear how they are using them," said Sainsbury's frozen plant-based buyer Rosie Bambaji.

"With the rising popularity of plant-based products, we want to make sure our customers have a wide choice of tasty fish and seafood alternatives alongside newly launching meat alternatives. Each product in the range has been chosen to provide our customers with quick, easy and tasty options, whether they are vegan, flexitarian or just looking for something new to try."