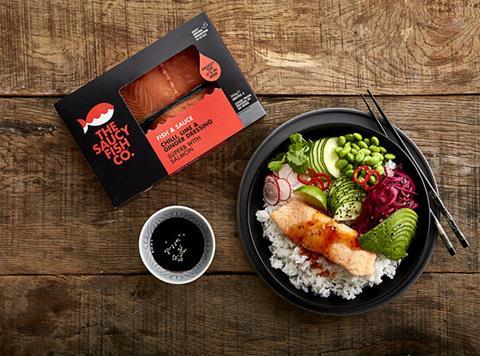 Seachill's Saucy Fish Co is poised to embrace the flexitarian trend with the launch of a new range of fish products combined with veg.

It planned to introduce the range during the first quarter of 2019 in a bid to capitalise on the boom in flexitarianism and the "growing trend by meat reducers in switching to fish", said Seachill sales and marketing director Amanda Webb.

The range is part of a glut of NPD planned for the new year, which will see the brand launch lines with basa and pollock, and expand its frozen range with new added-value products catering to the last-minute "dinner for tonight" meal occasion, according to Webb.

It comes as Saucy Fish this week announced it had secured a nationwide listing with Iceland's Food Warehouse for frozen bestsellers Salmon with Chilli, Lime & Ginger Sauce and its Smoked Haddock with Vintage Cheddar & Chive Sauce, along with two sauce-centred fishcakes.

The products will be available in more than 80 Food Warehouse outlets.

It followed an "exceptionally good performance in trial stores," Webb said, and comes in the wake of recent big contract wins for parent Seachill to supply prawns to Tesco and coated fish to Waitrose.

The Saucy Fish Co was now the bestselling brand in chilled fish, Webb claimed.

Seachill is also recruiting 200 extra staff for its Grimsby manufacturing site, which would take the company's total headcount to more than 1,500, she added.