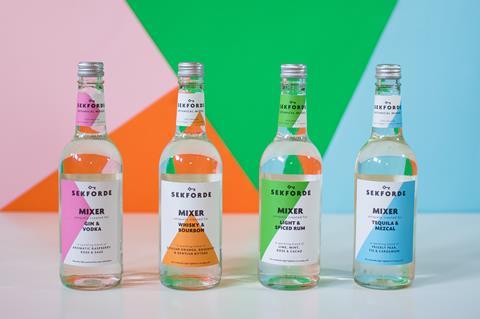 Posh mixer brand Sekforde has rebranded and launched into Waitrose.
The brand, which makes a four-strong range of mixers designed to pair with specific spirits, has been given a new look highlighting the word 'mixer' on the bottles, with an eye to "providing a clear indication of how to enjoy them in the designated spirit and mixer combination", according to the brand.
It has also moved into a larger 500ml format (they were previously sold only in 200ml bottles), which have rolled into the upmarket retailer (rsp: £1.95).
Flavours include Raspberry, Rose & Sage for gin and vodka; Sicilian Orange, Rosemary & Gentian Bitters for whisky and bourbon; Lime, Mint, Rose & Cacao for light and spiced rum; and Prickly Pear, Fig & Cardamom for tequila and mezcal. They contain 4g of sugar per 100ml, with under 40 calories per serve (167ml).
Breaking into Waitrose marked "a huge step" for the brand, said its founder Talula White, adding the brand "remains unique in specifying which spirit people should explore with each mixer".
"This is part of our commitment to encouraging people to discover spirits and to have a new, refreshing way to enjoy them across the day that doesn't overpower their flavours."