For consumers swapping out meat this January – or seasoned vegans looking for something new – these plant-based launches should provide some inspiration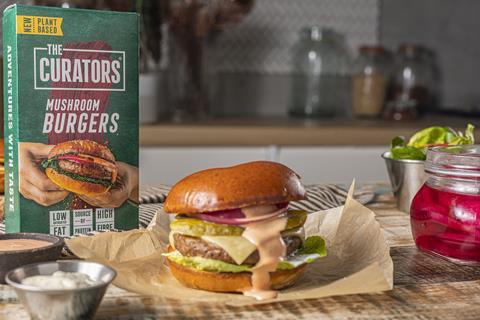 The Curators Mushroom Burgers & Balls
Marking its first move away from snacking and into the meat alternatives category, The Curators will launch a duo of plant-based burgers and meatballs into Tesco in January (both rsp: £3.49/200g). According to the startup, the products offer a "fantastic meaty texture" thanks to their "super-high mushroom content" of 86%. The frozen range is also said to be "bursting with natural protein", containing 5.5g per 100g, along with plenty of fibre (6.8g per 100g).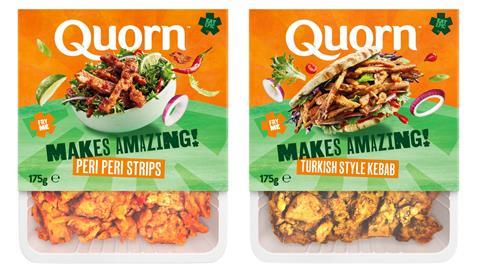 Quorn Makes Amazing
Meat-free giant Quorn is targeting scratch cooking shoppers with its new ingredients range, which lands in Waitrose on 30 December, Sainsbury's on 2 January and Asda on 4 January (rsp: £3/175g). Called Makes Amazing, the lineup consists of peri peri-flavoured strips and Turkish-style kebab-flavoured strips, which can be fried and added to a range of dishes.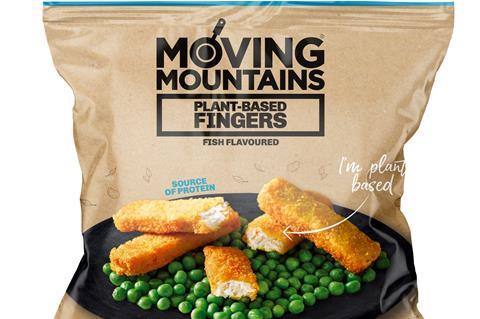 Moving Mountains Plant-Based Fingers
Said to taste exactly like fish fingers and mimic their flaky texture, Moving Mountains' Plant-Based Fingers land in Waitrose from 27 December, with a wider rollout planned in 2021 (rsp: £3.60/300g). The product is made using a UK-first white soy and therefore doesn't need whitening, as many fish and chicken alternatives do. Each finger contains 10g of protein per 100g and 70 calories.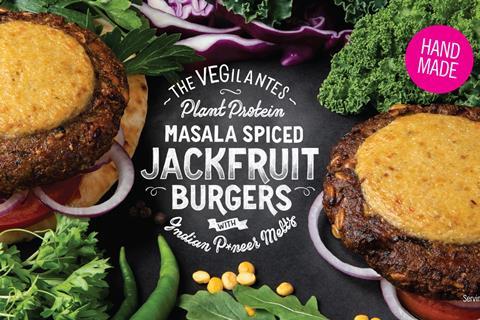 The Vegilantes
Frozen plant-based brand The Vegilantes is going big this Veganuary with six new launches, including an Indian-inspired jackfruit burger topped with a vegan alternative to paneer (rsp: £3/2x146g). Other lines include plant-based versions of chicken tikka, chicken pakora and chicken popcorn, all of which will be exclusive to Morrisons for the month.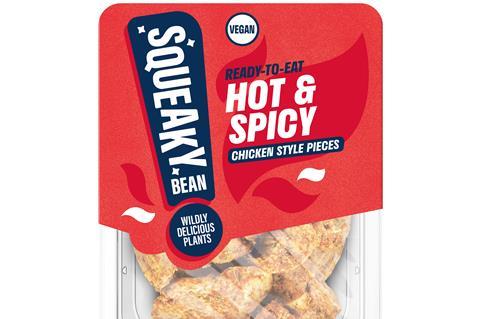 Squeaky Bean Hot & Spicy Pieces
The latest addition to Squeaky Bean's ready-to-eat range, these chicken-style pieces went on sale in Tesco at the end of November (rsp: £3/160g) alongside the brand's new falafel line (rsp: £2/200g).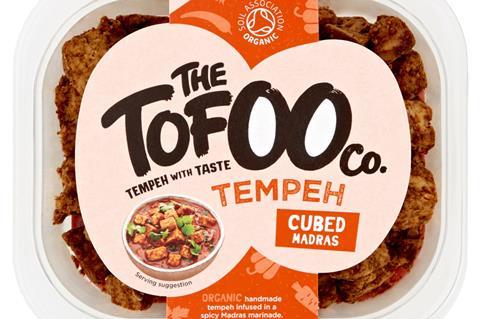 The Tofoo Co Tempeh
Recommended in a curry, on a flatbread or tossed through a potato salad, these cubed tempeh pieces from The Tofoo Co landed in Tesco in late November (rsp: £3.25/200g). The handmade, Indian-inspired soya cubes are infused with a spicy madras marinade.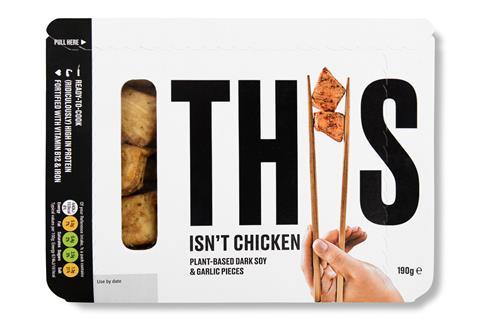 This Dark Soy & Garlic Pieces
Fast-growing plant-based brand This has used Far Eastern flavours for its latest variant of 'chicken' pieces. The ready-to-cook chunks – made from peas and soya beans – are infused with dark soy and garlic and contain 21g of protein per 100g. They went on sale in Waitrose in October (rsp: £3.65/190g).
Veganuary 2021: the new ranges coming to supermarkets
1

2

3

4

5

6

7

8

9

Currently reading

Seven plant-based meat alternatives launching for Veganuary 2021

10