Each month we showcase the most innovative vegan product launches that are launching into supermarkets the following month. For June, we've got vegan tuna, carbonara-ready "bacon" bits and plant-based lunch pots
Plant Power vegan smoky ribs
View this post on Instagram
Sainsbury's claimed a first as the only major mult to stock tempeh when it listed Plant Power in March. The range has now been supplemented by a tempeh-based Sweet 'n' Smoky Veggie Ribz SKU, featuring chunks in a barbecue sauce (rsp: £4).
The tempeh ribz, made with fermented soya beans to lend a meaty texture, went on sale as part of Sainsbuy's extension of its plant-based fixture this month. The retailer has high hopes for the product come barbecue season, as it grills in just 15 minutes.
Quorn meat-free lunch pots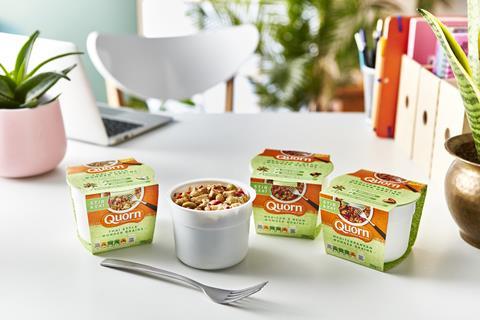 This month Quorn made its debut in ambient aisles with a range of ready-to-eat lunch pots.
The shelf-stable range falls into three lines: Wonder Grains snack pots in Thai Style, Mexican Three Bean and Mediterranean variants (rsp: £2.19/200g); bowl meals in Chilli Bean, Biriyani and Spiced Chickpea & Lentil variants (rsp: £2.49/300g); and meat alternative strips in Spicy Tikka and Smoky Fajita flavours (rsp: £2.99/180g).
Each product features freeze-dried pieces of Quorn's vegetarian alternatives to chicken or mince and will roll out in Tesco and Asda from June.
Vivera plant-based bacon pieces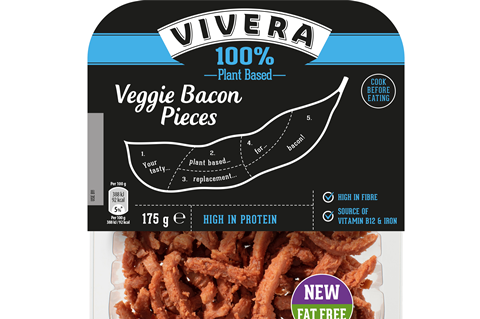 For the carbonara occasion, Vivera has rolled its first bacon alternative into Sainsbury's.
"Especially in the British market we foresee a large demand for our fat-free vegan bacon," says Vivera commercial director Gert Jan Gombert.
"Traditionally it is one of the product categories where meat has been difficult to replace. Our product development team has done an outstanding job in making the bacon pieces as tasty as the available regular bacon while reducing the fat level to zero."
Meatless Farm Co high-protein sausages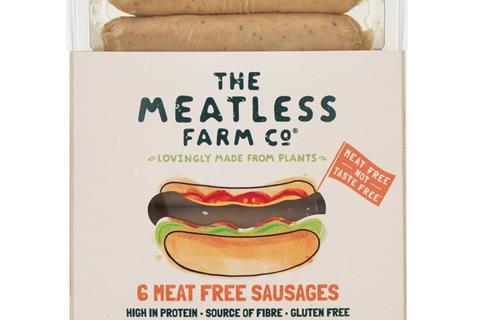 Also rolling into Sainsbury's on the back of a 24% increase in customers searching for vegan products online, and a 65% increase in sales of plant-based products year on year, the Meatless Farm Co has debuted its third retail offer.
Its soy-based sausages also feature pea and rice proteins but are gluten-free (rsp: £2.50/300g) and will join the brand's plant-based mince and burger products.
"We wanted to add another product to the range which further champions 'kind eating' and provides a healthy, centre of plate solution for families – whether they're veggie, vegan or just swapping out the odd meat meal," says Meatless Farm Co CEO Rob Woodall.
Califia Salted Caramel Cold Brew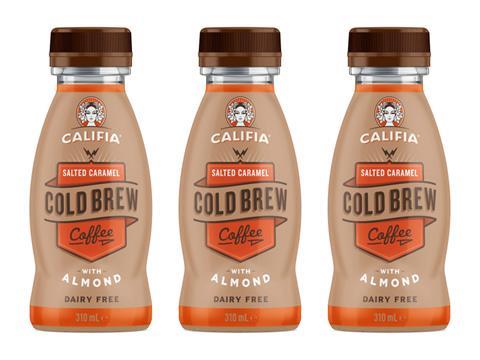 Coming in at 36 calories per 100ml, this cold brew combines caramel and sea salt with almond milk in a food-to-go size bottle (rsp: £1.89/310ml).
Launching into Morrisons chillers from 15 June, the soy-free brew is also low in sugar (4.9g/100ml) and is part of Califia's sugar reduction plans which have seen the average sugar content of its drinks slashed by 55%.
Flavoured Love Seitan meat replacement logs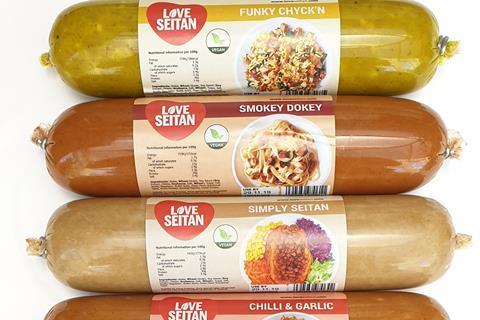 In talks with UK retailers, Love Seitan is planning to roll out its wheat-based meat alternatives before long. Its social media campaign aimed at convincing retailers to take it on gained thousands of likes and shares in just a few hours, while its director Nick Abear is convinced there's a gap in the market and growing demand for seitan in the UK.
Its retail offer is set to comprise 300g logs of seitan in Garlic & Chilli, Sage & Onion, Funky Chick'n, Simply Seitan, Classic Seitan and Smokey Dokey flavours.
It claims to be a unique proposition in the UK, where seitan is more often used in foodservice.
Loma Linda fish-free tinned tuna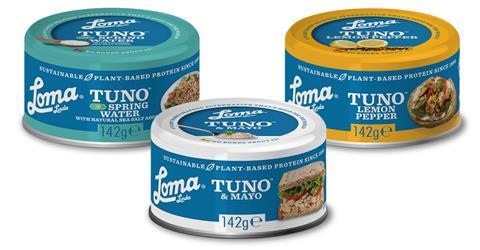 Seafood alternative Tuno launched into the canned fish aisles of Morrisons this month.
Spring Water, Tuno Mayo (made with vegan mayonnaise), Lemon Pepper and Sweet Chilli variants are now available in 142g cans and 85g on-the-go pouches for £1.30.
"Health and sustainability are critical components in a world where today's shoppers are not only aware of the benefits of plant-based proteins, but also embracing them as part of a healthy lifestyle," says Worldwide Food Associates managing director Eric Woods.
"As such, retailers like Morrisons are significantly increasing the space allocated to plant-based alternatives, as more brands and SKUs enter the market."