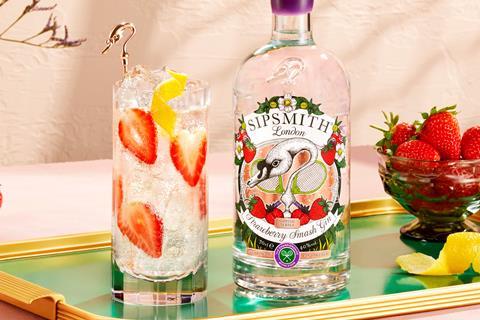 Sipsmith has partnered with Wimbledon to create a 'Strawberry Smash' limited-edition gin.
The gin (40% abv) is made strawberries from the 2020 harvest from Hugh Lowe Farms in Kent – the exclusive grower for the tennis tournament – as well as English mint (rsp: £28.50/70cl).
Touted as a "a must-try for gin lovers looking to perfect their serve this summer", Sipsmith is recommending it be served as part of an "elevated" gin & tonic with a slice of strawberry.
The NPD was 18 months in the making, said Sipsmith co-founder Fairfax Hall. "Sipsmith and Wimbledon are two brands that absolutely share the same ethos and dedication to quality."
It was "such a wonderful opportunity to get to work with such beautiful strawberries", added co-founder Jared Brown. "We are very traditionalist about our gin, so we structured a very traditional London dry but loaded the strawberries into the still with it.
"Putting them in the still brings over all of the fresh, summer fruit flavours but none of the natural sugars, so you can add them and still have a classic dry gin. We had to work some mint in as well because that is another fundamental flavour from Wimbledon."
With the planned reopening of the on-trade over coming months, Sipsmith was "super excited about getting back into the market", said Hall.
"We definitely suffered [during the pandemic]. We had a big on-trade team that we had to repurpose, but we didn't make any redundancies and managed to find them stuff which was value-adding."
Many staff, instead of being furloughed, had been put to work boosting the brand's sustainability credentials, with an eye to securing B Corp status, added Brown.