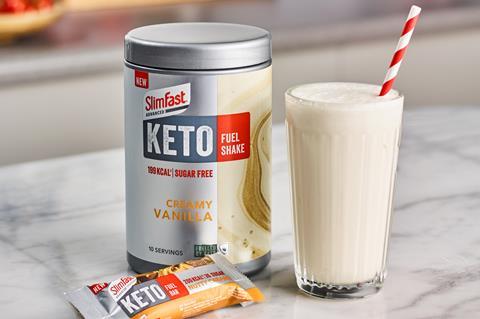 SlimFast is expanding its portfolio of weight management products with a new Keto range.
It said the range, which comprises one bar and three shakes, would provide shoppers with "all they need to become keto ready".
The products were "an easy, doable way to become 'keto confident'", and worked by supporting the body in shifting its energy source from carbohydrates to fats, said SlimFast.
The Keto diet has grown in popularity over recent years, with over 18 million Instagram posts tagged with #keto.
The diet is based on forcing the body into a state of ketosis (where the body burns fat in the absence of carbohydrate).
The Keto Fuel Shake is launching in three flavours; Rich Chocolate, Creamy Vanilla and Smooth Mocha (rsp: £14.99).
The Keto Fuel Bar, meanwhile, is launching in one flavour, comprising a caramel-style layer and crunchy peanuts with a chocolate-flavoured coating (rsp: £2.29/46g).
The range will hit Asda, Ocado, Amazon, Boots & Superdrug this month.
SlimFast marketing director Hannah Darlington said SlimFast aimed to make Keto "more accessible, more enjoyable and easier to do".