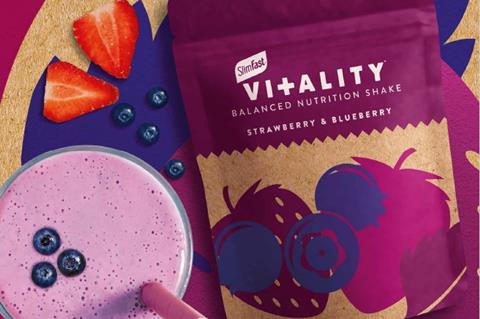 SlimFast is expanding outside weight loss products for the first time.
The brand, known for its meal replacements, shakes and bars, has created a new range of plant-based nutrition shakes under its Vitality brand, which will replace the entirety of the range on the market.
Designed to tap "the new and growing nutrition and wellness category", it was "not a meal replacement range or weight management product", said the brand, and owuld offer five powdered flavours: Strawberry & Blueberry, Chocolate, Vanilla & Strawberry, Raspberry and Mint Chocolate (rsp: £12.99).
It is the first entriely plant-based range from the brand, with each shake promised to contain 23 vitamins, as well as prebiotic fibre, no added sugar, and protein.
Over past years health had "become the number one priority for consumers and we have seen a surge in interest in nutrition and health-related terms with internet searches for gut health tripling over the last five years", said SlimFast marketing director Clafoutie Sintive.
"Yet despite this, we're struggling to eat a balanced diet due to lack of time, meaning we frequently compromise when it comes to making healthy and nutritious choices," she said, adding the NPD would offer "a quick hit of healthy in tasty and convenient formats".
The launch of Vitality marks the latest in a series of launches aimed at modern diet trends from the brand over past years. In August 2020, for instance, it rolled out a range of Keto weight management products. In December 2020, it gave its entire range a new look and unveiled a quartet of meal bars.
SlimFast was bought by Glanbia in a $350m deal in October 2018. In 2020, Glanbia proceeded to shake up SlimFast's management team in a bid to better integrate the brand with Glanbia's wider nutrition perfomance division.
The shake-up saw MD Miles Worne, who led SlimFast's UK business since June 2018, made general manager for Europe, while FD Stephen Parsons and international VP Richard Moore left.