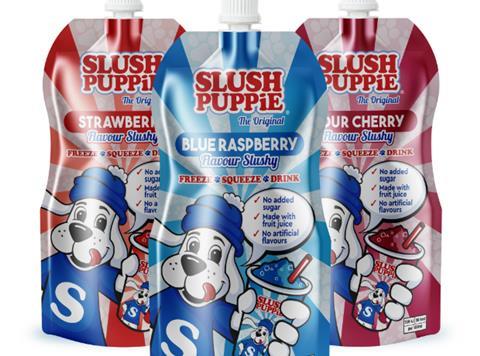 Slush Puppie is set to be available in a resealable freezer pouch for the first time, after Manchester Drinks secured the European licence for the ice crystal drink's new format.
The British ready-to-drink beverages supplier plans to introduce the Slush Puppie pouch to UK shoppers "later this year" in three variants made with real fruit juice.
Sour Cherry, Blue Raspberry and Strawberry would bring "a unique offering to the grocery sector with a simple freeze, squeeze and drink concept" claimed Manchester Drinks.
Made with no added sugar, the 250ml Slush Puppie pouch will be exempt from the soft drinks levy and contain 38 calories per 100ml – making it "the perfect choice for health-conscious consumers looking for a refreshing treat in a convenient format at home and on the go".
It will be available for retail as a single and a multipack of three. Rsps are yet to be confirmed.
Rollout of the Slush Puppie pouch will be supported by a consumer-focused push to raise awareness of the "clean, fuss-free" new format. Expansion into Continental Europe will follow in 2019.
Created in 1970, Slush Puppie remained "hugely popular with adults and children alike" said Manchester Drinks director Richard Benjamin.
"With the brand already well established in the UK in the dispenser format, we are delighted to introduce our resealable pouch, which is a simple way for consumers to enjoy their favourite slush drink wherever and whenever they choose."