Each month The Grocer takes an in-depth look at the hottest upcoming booze launches on their way to UK supermarkets. This time around we've got 'small beer', sparkling English wine and a duo of upmarket rums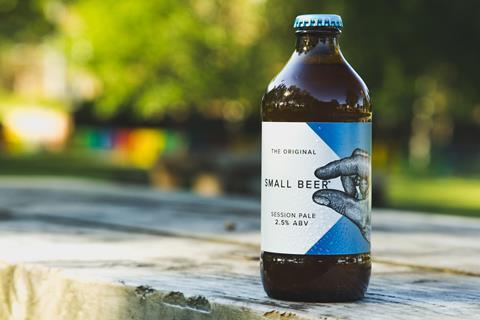 Small Beer Brew Co Session Pale
Low-alcohol craft brewer Small Beer Brew Co has boosted its portfolio with a new Session Pale.
The brew (2.5% abv) is billed as having "bright citrus aromas, tropical zesty notes and a mouthwatering juicy taste", and has rolled into specialist retailers in 'stubby' style bottles (rsp: £2.55/350ml).
It is vegan, lactose-free and is brewed with significantly less water than the average beer, boosting its sustainability credentials.
Small Beer Brew Co said: "At 2.5%, it gives you all the enjoyment without the slowdown, allowing you to drink exceptional beer yet not write off your afternoon or endure the haze that following morning." The range also includes a 2.1% lager and a 1% dark lager.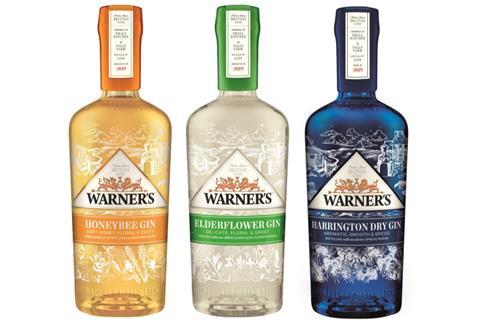 Warner's Gin
Warner's (formerly Warner Edwards) has given its gin bottles a makeover designed to sit better with the brand's recent rethink.
New bottles roll out from June across the brand's eight-strong range of drinks, featuring an illustration of "every element of [Warner's] farm born heritage – from the botanical gardens that cultivate its epic natural flavours, the 200-year-old barn where the gin is distilled, the beehives that give the honey for Warner's Honeybee Gin, and even the farm dog Leia".
Tamper labels and neck tags playing up its 'artisan' credentials will also be added.
Warner's has just added a classic London dry-style gin to its range, which it said it had developed "in celebration of this new chapter".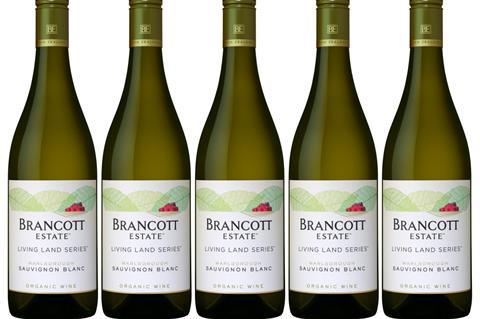 Brancott Estate Living Land Series
Pernod Ricard is launching an organic and vegan wine range under its Brancott Estate brand, called The Living Land Series. The first wine in the range, a sauvignon blanc, is rolling into Tesco (rsp: £10/750ml).
The wine is billed as being "pale straw in colour" with "vibrant passionfruit and pineapple aromas with hints of meadow flowers" on the nose.
The NPD was "testament to the brand's commitment to protecting and enhancing the natural environment that gives the wines their special character; from replanting native vegetation and revitalising wetlands to returning indigenous falcons to Marlborough, New Zealand", said Pernod Ricard.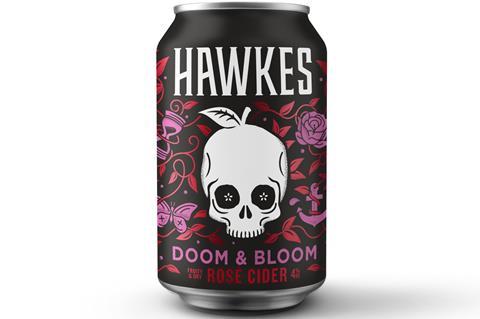 Doom & Bloom
This rosé cider (4% abv), from Brewdog-owned Hawkes, is made with a mix of Gala, Braeburn and Pink Lady apples, co-fermented with strawberry and rhubarb. It hits Asda this week, with the brand heralding "another huge step forward into national supermarkets" (rsp: £5.50/4x330ml).
Hawkes founder Simon Wright said: "The rosé trend has exploded in the US market over the last few years, so it made sense to us to experiment by bringing this delicious flavour to cider drinkers too. We're tireless in our mission to push the boundaries of craft cider, challenging the norms and creating new and exciting products for our customers."
Hawkes is steadily establishing itself as a major player in the small but blossoming craft cider world. In July, it it hosting what it claims will be the world's first international craft cider festival, Ciderama, in London, showcasing not just up-and-coming UK cidermakers but pioneering brands from across the pond.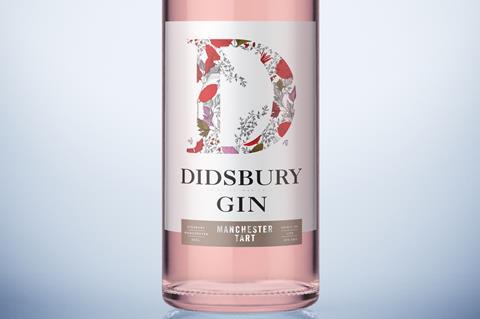 Didsbury Gin Manchester Tart
It wouldn't be a Grocer NPD roundup without a pink gin. This entrant, from Didsbury Gin, is a limited edition drink playing on the region's classic dessert with flavours of raspberry, vanilla, coconut and Maraschino cherry (40% abv).
It's a limited-edition release rolling out via online spirits specialist 31Dover's gin subscription club, after which a small number will be available direct from the brand itself. Didsbury's core gin is currently stocked in Selfridges and Harvey Nichols.
The brand, which last year secured a £75k investment from Jenny Campbell after it appeared on Dragons' Den, says its turnover reached £250k by the end of 2018, hailing "a year of deals with some of the country's biggest operators and distributors" – its Raspberry & Elderflower gin, for instance, has made waves after netting a major listing in 775 Wetherspoon pubs across the UK.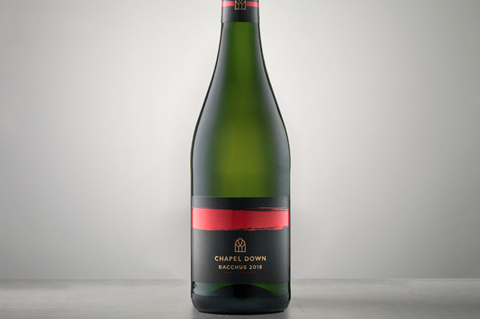 Chapel Down Sparkling Bacchus 2018
This launch (12% abv) from upmarket English winery Chapel Down marks the brand's first sparkling wine made with the bacchus grape, which Chapel Down says "is widely becoming known as England's answer to sauvignon blanc".
The winery calls it "a remarkably fresh and aromatic white wine with intense aromas of pineapple, grapefruit and elderflower", and suggests serving it with a splash of the brand's gin, which it makes with discarded bacchus grapes. It has rolled into Waitrose and independent retailers (rsp: £17/750ml).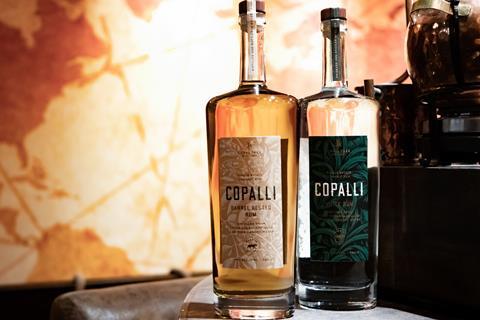 Copalli Rum
Rum is slowly but surely turning into a monster category. According to The WSTA, 35 million bottles were sold last year, worth just over £1bn. And while white rum is still the highest-selling type of rum, flavoured and spiced rums are catching up. The WSTA predicts they will knock white rum off the top spot by the end of 2019.
These organic, single estate Belizean rums – Copalli White Rum and Copalli Barrel Rested – have launched into Master of Malt and the on-trade (rsp: £33.50-£41.30/70cl). The distillery itself, called Copal Tree, is situated "in the heart of 20,000 acres of tropical rainforest", according to the brand, and is zero-impact, meaning it supports full-circle conversion of waste from production to agricultural products.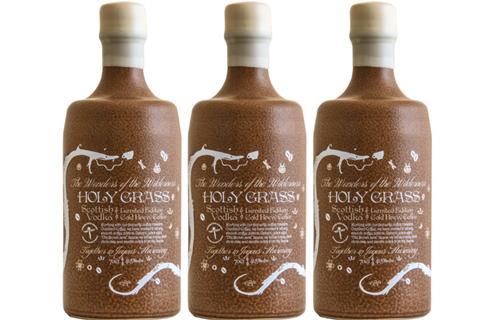 Holy Grass Vodka
Scottish spirits brand Dunnet Bay Distillers is adding a cold brew coffee variant of its Holy Grass Vodka to its permanent core range, created in collaboration with Glasgow's Ovenbird Coffee Roasters Co (rsp: £34/70cl).
It is made with six-year-aged Old Brown Java coffee beans ethically sourced from farms across the world and roasted by Ovenbird, which are infused into the vodka. The drink takes its name from the bonanical Holy Grass (and is also sold as a standalone vodka by the brand).
At 41.5% abv this is no espresso martini but a proper nightcap in its own right – though the brand is recommending it be used as the base for the aforementioned cocktail, with espresso and honey to sweeten.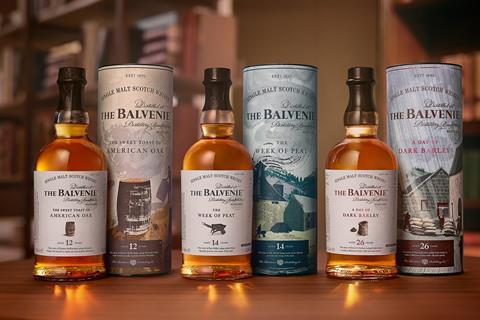 The Balvenie
Scotch distillery The Balvenie has unveiled a trio of new whiskies for its new 'Stories' range.
The drinks, called The Sweet Toast of American Oak 12yo (43% abv), The Week of Peat 14yo (48.3%) and A Day of Dark Barley 26yo (47.8%), are designed to "celebrate human tales of endeavour, craft and unexpected twists", according to the brand. They are priced at £45, £65 and a whopping £600 respectively, with listings in Fortnum & Mason secured so far.
Bottles feature bespoke illustrations from artist Andy Lovell. The brand is also soon to launch a book called 'Pursuit – The Balvenie Stories Collection' containing a series of fiction and non-fiction short stories by authors from around the world.