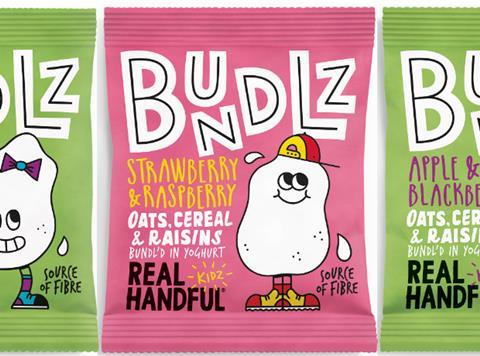 Healthy snack startup Real Handful is set to roll out its first range for children, Bundlz.
Designed to offer a "better alternative in the kids treat snack sector", Bundlz comprises oats, cereal and raisins in clusters covered with fruit yoghurt.
The two variants, Strawberry & Raspberry and Apple & Blackberry, provide 87 calories per 20g pack (435kcals per 100g). At 36g of sugar per 100g, they also contained "40% less sugar compared with other kids yoghurt snacks on the market" Real Handful claimed.
With packaging featuring hand-drawn illustrations and bold colours, Bundlz (rsps: 60p/20g & £2.50/5x20) will land on shelf in 264 Sainsbury's stores on 13 January, followed by Ocado later in the month.
The new sub-brand was the result of two years' development, said Real Handful co-founder Carly Taylor. "We noticed a real gap in the market for fruit and yoghurt-based snacks that are not only fun and delicious but also use real fruit rather than fruit pulp, and less yoghurt."
Launched in 2016, the Stockport-based Real Handful unveiled a new look last spring as it redeveloped its entire portfolio to be vegan-friendly and secured a host of new listings including Sainsbury's Local, WHSmith Travel and Sourced Market.