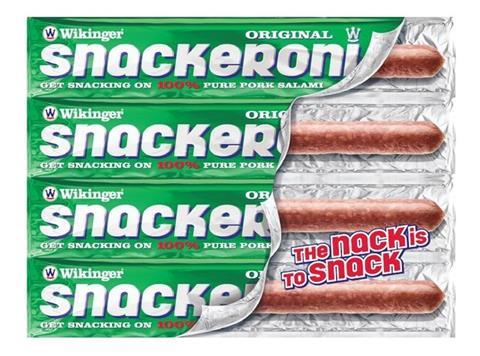 German processed meat giant ZMI Group – owner of the Wikinger hot dog brand - has launched a salami snack brand that will go head-to-head with Peperami.
Rolling out to 500 Asda stores across the country this week, Snackeroni is a 100% pork salami stick available in three flavours - Original, Chorizo and Really Hot and Spicy. They will be sold in three formats - single sticks, four-packs and 10-packs of mini salami sticks.
ZMI said the products would be priced below Peperami, with a rsp of £1.50 for the Snackeroni four-pack vs the £2.50 a Peperami five-pack currently sells for in the big four supermarkets [BrandView.com]. The launch – which comes a year after Unilever sold the Peperami brand to US-based Jack Link's - will be supported with pricing activity including a £1 promotion on the four-packs, and the creation of a dedicated brand website.
"It is a big market dominated by a single player – so we will be taking on Peperami," said ZMI UK sales director Derrick Watson. "The recent sale of the brand to Jack Link's makes the situation even more interesting."
Snackeroni – already sold under a different name in Europe - is manufactured in Germany at a facility recently updated by ZMI with a E20m investment.
While Peperami is often sold from the chiller, Snackeroni is distributed through an ambient supply chain and will be sold from a newly created ambient meat snacking fixture in the canned meat fixture in Asda.
"The ambient savoury snacking sector has been the domain of crisps, snacks and nuts," said Asda savoury and canned buyer Sarah Hoff. "We are aiming to provide our customers with a convenient one-stop location."