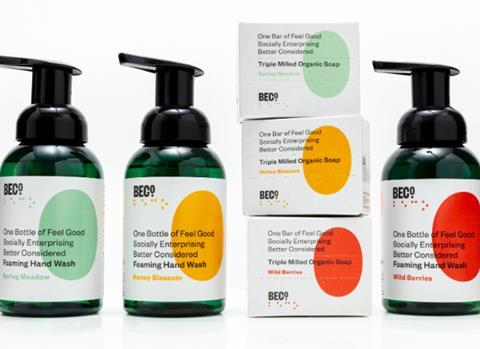 Clarity, the social enterprise launched in 1854, has rolled out a premium soap brand created by people with visual impairments and other disabilities.
Beco is a "good and playful" range of foaming handwash and organic bar soap in three "planet-friendly and eco-certified" fragrances: Honey Blossom, Spring Meadow and Wild Berries.
The handwash (rsp: £4/250ml) lasted "2.5 times longer than a liquid handwash", claimed Clarity, while the bar soap (rsp: £3/100g) contained "ingredients that have not been produced with herbicides, chemical fertilisers or pesticides". Every product bears the names of three team members involved in its creation.
Beco came in response to "demand for products which are better for society, better for the environment, and are just better for the people who buy them". The new brand – available from this week in Waitrose and Sainsbury's – is a sister brand to The Soap Co, launched by Clarity in 2016.
All sales revenue will be reinvested into the East London business, where 80% of employees are visually impaired, disabled or disadvantaged.
"Beco stands for Better Considered, and is a movement that puts meaningful change for disabled and disadvantaged people in the hands of everyday shoppers," said Clarity head of commercial Camilla Marcus-Dew.
By launching The Soap Co two years ago, Clarity "learnt a lot about introducing an ethical heart to the world of premium body and bath products" she added.
"We launched Beco to empower people across the UK to not just challenge the status quo but to change it for the better."