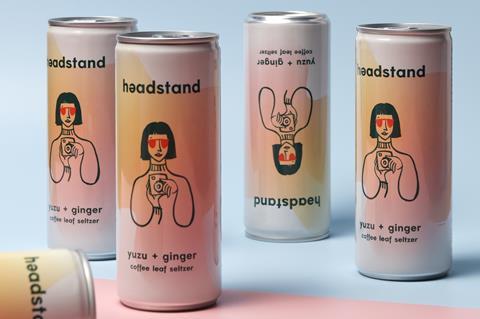 Soft drinks startup Headstand is launching a coffee leaf seltzer.
It will debut with a Yuzu & Ginger flavour on 23 May (rsp: £2.50/250ml).
The sparkling drink contains zero caffeine, no added sugar and weighs in at 30 calories per serve.
The active ingredients were each chosen for their purported benefits: coffee leaf for its antioxidant content, chamomile for a calming effect, ginseng to help maintain homeostasis in the immune system, and the green tea extract L-theanine to boost concentration, the brand explained.
Headstand founder Josh Tarlo has almost a decade's industry experience, having served as head of coffee at Kiss the Hippo and Origin Coffee Roasters.
Tarlo had seen first-hand how the climate crisis was making growing coffee fruit difficult, but how the leaves flourished, said Headstand.
"After hearing how the leaf has been processed into a tea for hundreds of years in East Africa, he worked with producers in El Salvador and Rwanda to develop a new way to dry the leaves to bring out different flavours," it added.
"I originally used a basic version of coffee leaf as part of a drink to win the UK Barista Competition," said Tarlo.
However, it "wasn't until the first UK lockdown that I got chatting to some producer friends to see if we could refine the process".
"In creating Headstand we wanted to put the wellbeing of the producers and the people drinking it first. That's why we pay the same amount for the leaf as the producers get for their high-end specialty coffee and why we ensure Headstand is as good for you as it is tasty," he said.