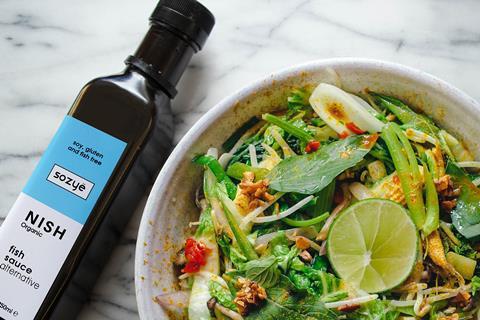 London startup Sozyë has launched a trio of vegan cooking sauces intended be used as alternatives to fish, oyster and soy sauce.
Called Nish, Noyster and Noya, the sauces are free from all major allergens, including soy and seafood.
Instead, they contained "a special sustainably harvested certified organic seaweed" from the Scottish coastline, said Sozyë.
Only the tops of the leaves were collected, which enabled the seaweed to regrow within a few weeks, it claimed.
They have rolled exclusively into Planet Organic (rsp: £2.99-£4.99/250ml).
Sozyë is the brainchild of coconut products brand Cocofina founder Jacob Thundil, a former Dragons' Den contestant.
The sauces were developed after Thundil – while experimenting in the kitchen – noted that the savoury notes of a particular type of Scottish seaweed reminded him of fermented soy.
This discovery led him to conduct "hundreds of kitchen trials to perfect the world's first British-made soya sauce alternative", Sozyë added.
Thundil said he was "very happy with the results", adding that he hoped the public would support his mission to "brew delicious sauces which are kind to the planet and you".
The NPD joins a raft of recent plant-based launches from fmcg brands hoping to capitalise on Veganuary.
The UK's biggest meat alternative brands, for example – including the likes of Quorn, Linda McCartney's and Meatless Farm – have added a deluge of NPD to lure in newbie vegans.