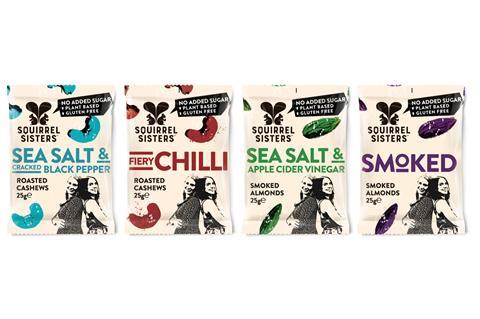 Squirrel Sisters is venturing into the savoury snacks category with two new ranges.
It has created a four-strong range of roasted nuts and a duo of seeded crackers, all of which, like the rest of its products, contain no added sugar.
The nuts will launch in four flavours – Sea Salt & Cracked Black Pepper Cashews, Fiery Chilli Cashews, Sea Salt & Apple Cider Vinegar Almonds and Smoked Almonds – set to hit Holland & Barrett from 1 October (rsp: £1.10/25g).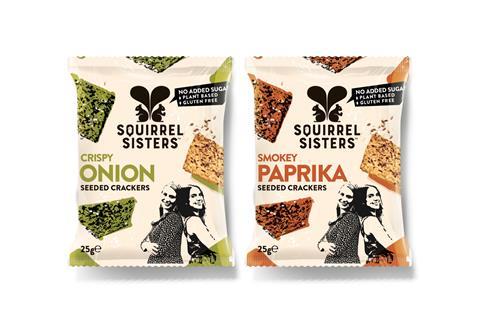 The seeded crackers, meanwhile, will follow suit on 1 November, launching in two flavours – Smokey Paprika and Crispy Onion (rsp: £1.35/25g).
The snacks would "satisfy [shoppers] taste-buds as well as their health", said co-founder Gracie Tyrell.
The brand's founders, Sophie and Gracie Tyrell, have campaigned against excess sugar in food and drink since 2015, after Sophie was diagnosed with Wolfe-Parkinson-Whyte syndrome and required surgery, after which she became sensitive to gluten and sugar.
The NPD comes as Squirrel Sisters joined The Black Farmer owner Wilfred Emmanuel-Jones' start-up scheme The Hatchery earlier this year.
Emmanuel-Jones took a 30% stake in the business in return for funding and mentorship, with an eye to landing listings with bigger retailers and expanding into new categories.