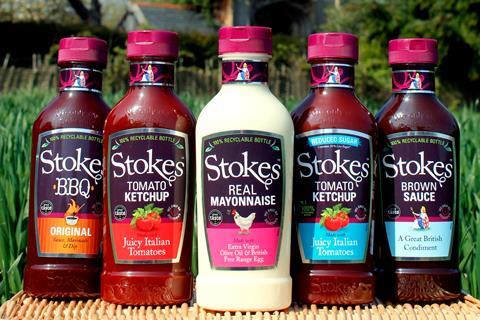 Premium table sauce maker Stokes Sauces has unveiled its first squeezy bottle, with the aim of "taking on the big brands in the sector".
Made from PET, the bespoke, "family friendly" packaging (rsp: £3.45-£3.60/420g-510g) is 100% recyclable. It was also "easier to handle than those used by larger brands" claimed Stokes, which until now used only glass jars and bottles.
It is rolling out now to Ocado and Booths for the Suffolk brand's existing Tomato Ketchup, Real Mayonnaise, Original Barbecue Sauce, Brown Sauce – as well as the new Reduced Sugar Tomato Ketchup with 30% less sugar and "a higher percentage of tomatoes".
The NPD came because "97% of all ketchup bought by consumers in the UK is sold in squeezy bottles" said Stokes MD Rick Sheepshanks. "Although people love our signature glass bottles, sometimes glass isn't the most convenient. Squeezy bottles dominate the sector, and reduced sugar options are becoming more popular, so we've invested in these new products to enable us to chase a bigger share of the market."