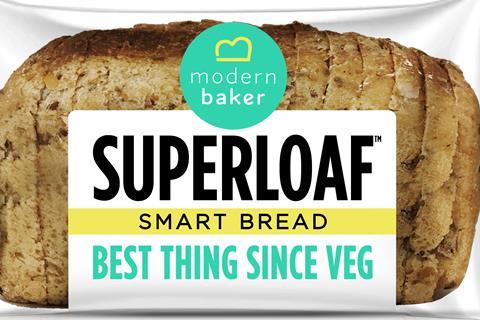 Modern Baker is set to roll out its new Superloaf – a high-tech bread product that supports normal immune function while providing fewer calories than traditional wrapped bread. Here are 10 facts about the loaf.
1. Superloaf is the world's first 'smart loaf', claims Modern Baker co-founder Leo Campbell. It is meant as a healthier alternative to standard wrapped bread. "Superloaf is the first real step in our mission to democratise healthy baking, for the common good," he says. "Industrial bread is the UK's most eaten ultra-processed food. Superloaf represents a massive step away from this."
2. Superloaf was inspired by Modern Baker co-founder Melissa Sharp's experience in a chemo ward. She was saddened to see the refreshment trolley selling unhealthy drinks and snacks to patients being treated for cancer.
3. The new bread is made with "a unique blend of fibres" and "certain aspects of plant chemicals" according to Campbell. Modern Baker's ambition is to "make a bread that's as healthy as a vegetable". The fibre content comprises soluble fibre to help control glucose absorption in the small intestine; insoluble fibre that is "excellent for removing toxins"; and fermentable fibre, which "provides fuel for the friendly bugs in the gut microbiome".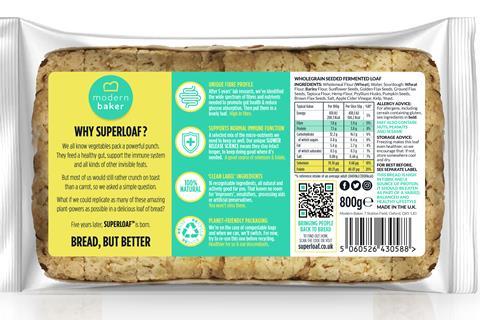 4. Superloaf is seeded and sliced. It provides 208kcals per 100g. That's 26.8% lower than Warburtons Original Seeded Batch and 25.2% lower than Hovis Seed Sensations.
5. Modern Baker's new bread is the result of "tens of thousands of hours, sleepless nights and millions of cul-de-sacs and, gratifyingly, some fantastic breakthroughs" Campbell says.
6. It was created in partnership with the likes of the Oxford Brookes Centre for Nutrition & Health and food technology company Camden BRI. "Dozens of other businesses and disciplines have been involved in the birth of Superloaf – from academia to government, scientists and the life sciences, business and investment communities, and an increasing input from the creative industries," he adds.
7. The new bread will be available this month exclusively via Amazon Fresh. Modern Baker's choice of retailer "is a totally strategic decision" says Campbell. "It clearly signals our intent to be central to food's 'tech moment'. Amazon Prime's reach and power is an unbeatable tool, and Amazon Fresh is built entirely around that genius."
8. Superloaf's launch was originally scheduled for autumn 2021, but Modern Baker brought it forward "because we could and we should" he says.
9. The new loaf is wrapped in a recyclable plastic bag, but that is set to change. "The technology has come from Israel for our next generation of bag," Campbell says. "Our commitment is that it will be fully compostable within three months."
10. In spite of offering a raft of baked goods and planning many more 'smart' products, Oxford's Modern Baker is "not really a food brand" he insists. "Food is simply our medium for tackling one of humanity's greatest challenges: the healthcare crisis caused by poor diet. What we focus on is human biology, improving health outcomes and how best to penetrate a legacy industry – while trying not to be become too depressed by the food industry's refusal to see their role in the hospital bed crisis."