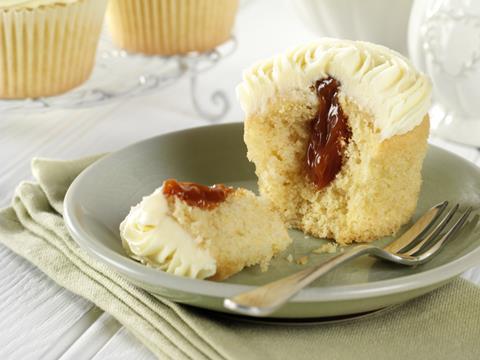 Dr Oetker is hoping to 'surprise' home baking enthusiasts with the launch of a range of fillings for cupcakes.
Surprise Inside Cupcake Centres will be available in three flavours – salted caramel, rich chocolate, and zesty lemon – with the fillings to be squeezed through a nozzle into freshly baked cakes (RRP: £1.99/140g).
The baking product manufacturer said the range tapped into the rise of the "surprise inside" trend, with the market for cake decorations and inclusions, such as chips and sprinkles, now worth £11.5m and growing at 6.6%.
Gill Davies, executive head of marketing at Dr Oetker UK, added: "Our aim is to inspire consumers by placing exciting new products on the shelves and we expect our Cupcake Centres to be a huge hit with all bakers. This is a brilliant opportunity for home baking, driving growth for the whole category.
"We've created 'how to' YouTube videos to accompany the launch which will show consumers how to use the product and get them baking."
The Surprise Insider Cupcake Centres will be available from 2 January 2015.
Dr Oetker, which also makes the Chicago Town and Ristorante frozen pizza brands, returned to the black in its most recent set of UK financial results. The company moved from a £2.4m pre-tax loss to a profit of £165,000 in the 2013 calendar year on the back of growing sales of £148m. Overall revenue for the German group, which includes beer, wine and shipping divisions, fell 0.9% in 2013 to €10.84bn.