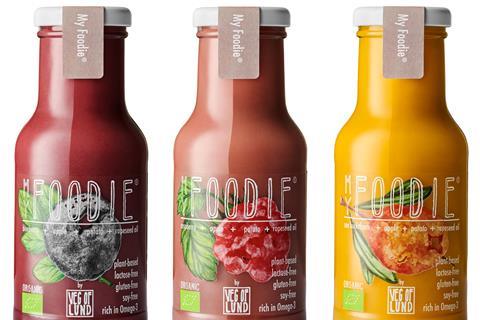 Swedish brand My Foodie has made its UK debut with a three-strong range of potato-based smoothies.
Aimed at flexitarian and vegan diets, the free-from chilled drinks are a mix of potato and rapeseed oil with apple juice and berries.
The combination created "a remarkably viscous and filling liquid" said My Foodie owner Veg of Lund, which launched the drinks in August 2018.
They were "the first in the world to successfully marry the properties of the potato with the omega 3-rich qualities of rapeseed oil" claimed the supplier, which has patented its method for combining the potato and oil – a process that was "akin to mixing oil and water".
Three variants of My Foodie are available in a glass bottle: Blueberry, Raspberry and Sea Buckthorn (rsp: £3/250ml).
All contain no dairy, added sugar, gluten or nuts, with each 100g providing 8.3g of sugar and 102 calories. Each bottle promises half the daily recommended amount of omega 3, while the potato offers "more potassium than a banana".
The My Foodies lineup was "a delicious and nutritious smorgasbord of ingredients and flavours" said Thomas Olander, Veg of Lund co-founder & CEO. "Given their consistency, they're more a drinkable snack than a drink."