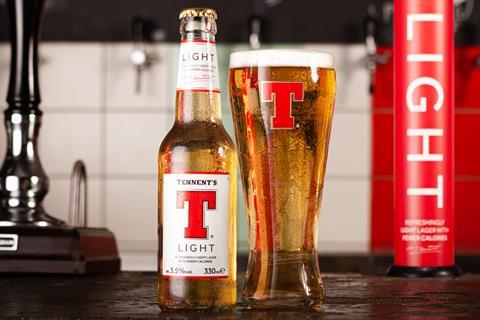 Tennent's has jumped on the lower-alcohol bandwagon with a new 'light' version of its longstanding lager.
Tennent's Light (3.5% abv) is billed as a "refreshing", "crisp" and "malty" beer, with 66 calories per 330ml bottle.
It has launched initially into the on-trade, but it is understood an off-trade launch will follow in future.
It was made from "100% Scottish-grown cereals and fresh highland water from Loch Katrine" and used a traditional brewing method, "but with a longer boiling process, hand-mixed hops and slower fermentation", said Tennent's.
The lager is also gluten-free and suitable for vegans.
Tennent's brand manager James Hughes said the brew had been "developed recognising current consumer trends" and the "growing demand for low & no-alcohol options".
William Reed – the publisher of The Grocer – has launched an exhibition exclusively for the low & no category. For more information, visit low2nobev.com.