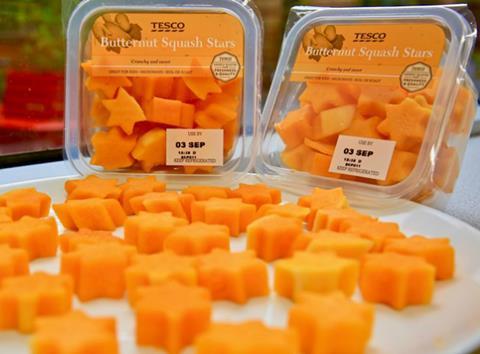 Tesco has launched a new range of fresh veg aimed at encouraging children to eat healthier food.

Star-shaped butternut squash bites went on sale in 200 Tesco stores on 7 September, with an rsp of £1.50 per 250g. The product will be followed by other fresh produce lines including smiley sweet potato faces.

The retailer said it hoped adding a "touch of novelty" through interesting shapes and sizes could add a fun element to a meal and encourage children to explore a wider range of vegetables.

"We want to give parents a helping hand with encouraging their kids to eat more vegetables," said Tesco vegetable buyer Elizabeth Hall. "We've taken away a lot of the hassle out of preparing vegetables like butternut squash, which might deter busy cooks at home, while also making them more appealing for children.

The move has been welcomed by the chairman of the NFU horticulture board, Ali Capper. "We have long been calling on food manufacturers to create fun-shaped fruit and veg for children in smaller-sized portions, which we believe could have a role in helping reverse the current obesity crisis."

It follows the retailer's push to get kids eating more fruit with its Free Fruit for Kids initiative, launched in July 2016. Over the year, Tesco gave out 20 million pieces of fruit as part of the scheme, which launched in 801 stores across the UK.