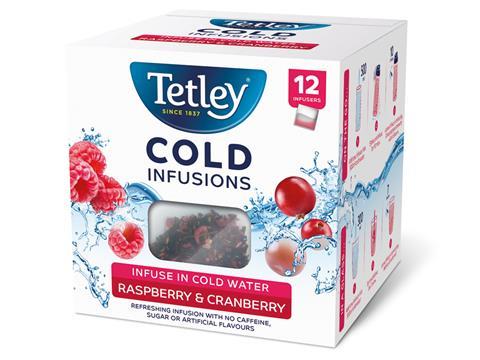 Tetley is taking on Twinings in the cold ­infusions market with an offer priced markedly lower than its rival's.
Tetley Cold Infusions is positioned as "an affordable range of fruit and herbal infusions developed specially to be brewed in cold water".
Four variants will begin rollout in mid-July: Raspberry & Cranberry; Passionfruit & Mango; Orange & Peach; and Mint, Lemon & Cucumber. Rsp is £2.49 for 12 infusions – about 21p per serving.
Twinings' Cold In'fuse lineup, launched in April, retails at a higher £3.79 for 12 bags – almost 32p each.
Each Tetley infusion includes small pieces of real fruit and has been heat-treated "to be suitable and safe to be infused in cold water".
All are free from caffeine, artificial flavours, added sugar and sweeteners.
Raspberry & Cranberry and Orange & Peach will be available as part of a Tetley Cold Infusions starter kit (rsp: £7.99), which comprises 12 infusions and a 650ml reusable drinking bottle with a strainer, "to allow consumers to customise their drink". Twinings' starter pack of bottle and three bags is priced at £9.99.
Tetley Cold Infusions was set to be merchandised in the tea segment because "this is where shoppers expect to find Tetley" said the brand's senior marketing manager Sabrina Torrens.
"But we are not competing with hot beverages, rather seeking to fill a gap in the flavoured water category that is currently not delivering on natural, no-sugar drinks at an affordable price point."
The NPD is aimed at tapping the booming flavoured water market. Supermarket shoppers took home an extra 33.5 million litres last year, pushing value sales of still and sparkling up 11.1% and 11.9% respectively to a total of £211.9m [Kantar Worldpanel 52 w/e 5 November 2017].