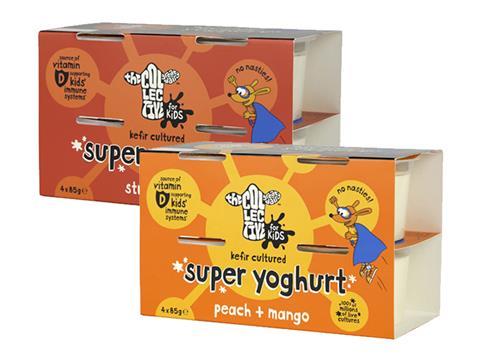 The Collective is aiming to bring gut health to kids with the launch of Super Yoghurt, a new range of kefir yoghurt with vitamin D and gut-friendly cultures.
The products joined the brand's Suckies yoghurt pouches in the Collective for Kids sub-range, and represented the first fermented dairy product in the UK developed especially for children, said Collective co-founder Amelia Harvey.
The range is due to go on sale later this week in Sainsbury's and Ocado in four-packs of 85g pots (rsp: £2), with other retailers to follow later this year. It combined the health benefits of kefir with vitamin D to "help kids' immune systems function properly", she added.
Available in Strawberry and Peach & Mango flavours that had been "created for kids' taste palates", the yoghurts also contained no added sugar and millions of gut-friendly live cultures, the brand said.
Super Yoghurt also featured an "engaging" superhero character on pack, in addition to a design-your-own superhero mask inside the pack.
The launch follows the introduction of a kefir drinks range by The Collective last April and a new kefir yoghurt range for adults last October.
It represented The Collective's "next big leap in kids yoghurts" following the success of Suckies, Harvey suggested, with the brand posting a value sales increase of 29.2% last year against a 5.3% decline in the kids' yoghurt category [IRI 52 w/e 23 December 2018].
"Being a mother myself, I have seen the benefits firsthand of giving my child kefir and his improvement in immunity and general well-being," she added.
"I wanted to create a range which combined the gut health benefits of kefir and a wholesome natural yoghurt. I'm proud to say that with The Collective Super Yoghurt, we have perfected this balance which we hope will be a huge winning factor for both parents and kids."