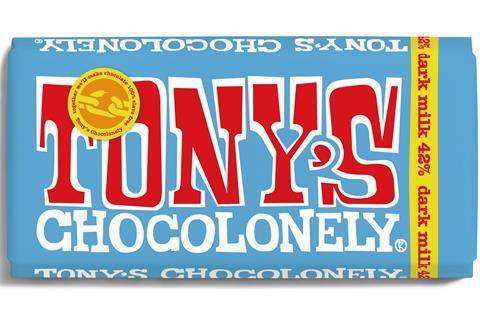 Tony's Chocolonely has jumped on the dark milk bandwagon.
The Belgian brand's new Dark Milk bar is made with 42% cocoa solids and billed as a "delicious creamy milk chocolate bar with the bite and punch of decadent dark chocolate".
Each bar is made with 148 'impact' beans from the brand's farmers in Ghana and Ivory Coast.
"[Chocolate is] an industry fraught with ethical problems, especially in West Africa including Ghana and the Ivory Coast – and Tony's has revolutionised how it sources, processes and pays for cocoa to inspire other chocolate makers to change their ways and make a difference," said the brand.
It added it had created its "very own system in West Africa to be able to trace their cocoa back to source, and they personally work with the farms and factories to track their impact".
As with the rest of the Tony's Chocolonely range, it is free of palm oil and uses no plastic in its packaging. It has rolled exclusively into Sainsbury's (rsp: £3.50/180g).
The brand is also calling on shoppers to sign a petition to make all chocolate companies 100% responsible for their supply chains. "Despite industry promises to reduce it, the use of child labour on cocoa farms in top producers, Ivory Coast and Ghana, has risen over the past decade," it said.