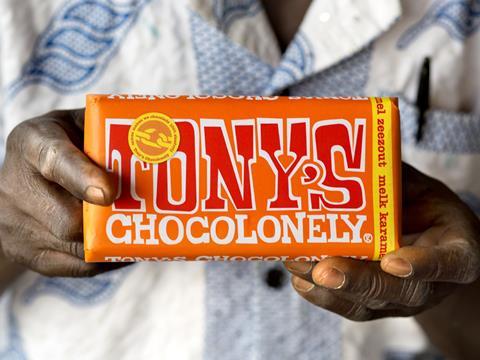 Tony's Chocolonely, the Dutch confectionery sensation founded with the aim of eradicating slavery from the chocolate supply chain, is preparing a UK launch.
The fast-growing ­business this week told The Grocer it would make its British debut in early 2019, following successful rollouts in Belgium, the US and, most recently, Sweden.
Tony's would not be drawn on details of its UK rollout. However, its head of marketing Pascal van Ham said the range would be "based on the same portfolio of classic flavours we have now" – including the original milk chocolate bar.
Each brightly wrapped bar is unevenly divided to reflect the inequity often found in the cocoa supply chain. It was concerns about slavery and child labour that sparked crusading Dutch journalist Teun van de Keuken to launch Tony's 13 years ago with the mission "to make 100% slave-free the norm in chocolate".
To maintain an ethical supply chain, Tony's pays its cocoa farmer partners in Ghana and Ivory Coast more than Fairtrade. This means UK rsps – yet to be set – would reflect "the true price of chocolate" said van Ham. In the US, a 6oz (170g) bar retails for $5.49 (£4.20).
Tony's was a "top of mainstream" brand, van Ham added. "If chocolate is very, very cheap, someone in Africa pays the price."
Founded in 2005, Tony's Chocolonely last year recorded worldwide sales of €44.9m (£39.4m) – up 53% on the previous 12 months – with €2.4m coming from the US. It recently overtook Milka as the Netherlands' leading chocolate brand.