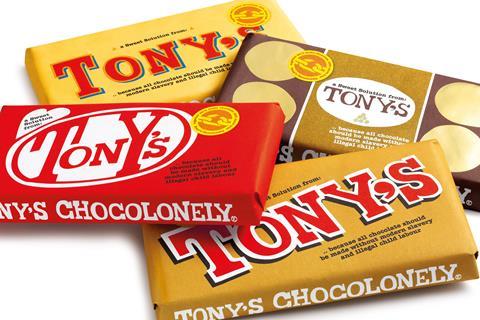 Tony's Chocolonely's new range was dropped by Sainsbury's after it faced pressure from rival suppliers, the Dutch chocolatier has claimed.
The four-strong Sweet Solution lineup comprises variants with pack designs and formulations similar to Kit Kat, Twix, Toblerone and Ferrero Rocher (rsp: £3.50/180g). The bars themselves are in Tony's typical slab shape.
The quartet is part of the Dutch confectioner's new push for its online petition. It calls for human rights legislation that holds companies legally accountable for modern slavery and illegal child labour in their supply chains. Each of the new chocolate bars features the petition's web address on the inside of its wrapper.
Sweet Solution was due to roll exclusively into Sainsbury's today (25 January) as a limited-edition offer. However, the retailer – which lists several other Tony's lines – backed out late last week. The decision came following blowback from leading confectioners, said Tony's, which did not name the companies involved.
"Some big chocolate makers have put pressure on Tony's retailers to remove our Sweet Solution bars from supermarkets in the UK because they didn't want to be associated with the claims of illegal labour in the chocolate industry," said the brand's head of impact Paul Schoenmakers.
"All of us – from choco fans to choco makers, governments to grocery stores – are part of the problem," he added. "But we can all work together to be part of the sweet solution. We are really grateful to Sainsbury's for supporting our mission and trying to change the industry for the better."
Sainsbury's and Kit Kat maker Nestlé declined to comment, while Twix owner Mars Wrigley and Ferrero, maker of Ferrero Rocher, said they had nothing to do with the matter. The Grocer has approached Toblerone supplier Mondelez for comment.
Sweet Solution is now available only from Tony's website. Its aim was "to raise awareness of the fact that 20 years after the chocolate industry promised to eradicate illegal child labour, it is still widely prevalent" said the brand – which was founded in 2005 with the aim of eliminating slavery from the chocolate supply chain.
Tony's sourcing policy follows five principles: using 100% traceable cocoa beans, paying a higher price for them, strengthening farmer co-operatives, engaging in long-term direct trading partnerships, and focusing on cocoa quality and productivity to optimise cocoa yields.
"But it's not enough if these principles are only implemented by us," Schoenmakers said. To encourage other businesses to adhere to the same values, Tony's runs Open Chain, its open source platform allowing collaboration between chocolate makers, retailers and cocoa suppliers.
It comes after Tony's added £6m to its sales value in UK grocery, becoming worth £8.4m [Nielsen 52 w/e 5 September 2020].