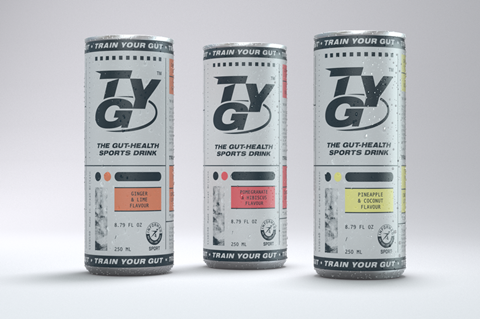 Gut health brand Train Your Gut is to debut with what it claims is the world's first probiotic sports drink.
The brand, which is backed by gymnast and TV presenter Gabby Logan, has developed a trio of sports drinks aimed at optimising performance and billed as the "perfect" post-workout drink.
Three flavours have launched: Ginger & Lime, Pomegranate & Hibiscus and Pineapple & Coconut (rsp: £31.20/12x250ml). They contain bacillus coagualans bacteria, which the brand said was "proven to reduce IBS-like symptoms", and coconut water, which is said to provide a "natural supply of electrolytes, potassium and carbohydrates".
Train Your Gut said up to 50% of athletes were affected by digestive issues, and having experienced gut health issues herself, founder Aoife Morrin wanted to take a holistic approach and create something new.
On top of the two billion colony-forming units of bacteria found in each can, the trio is claimed to contain 50% of the recommended daily intake of vitamins C, B3, B6, B7 and B12, and BCAAs, which the brand said "can contribute to the reduction of tiredness and fatigue and normal energy yielding metabolism".
Per can, they contain up to 22.5 calories and no artificial sweeteners or preservatives, as a natural approach is "better for the gut", said Morrin.
They have launched into the brand's online store.