Tropicana hopes the launch will encourage consumers to trade up in ambient juice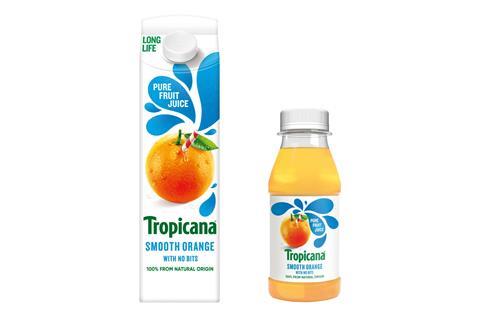 Tropicana has entered the ambient aisles with a trio of long-life juices.
Smooth Orange, Original Orange and Apple are available in plain (rsp: £2.99) and price-marked (£2.75) 850ml cartons.
Smooth Orange is also available in a plain (rsp: £1.60) and price-marked 250ml bottle (£1.25), while Apple is available in the price-marked 250ml bottle only.
"Among many factors, cost of living pressures have led to a change in consumer shopping habits, with customers turning to bulk buying and opting for shelf-stable options to help with budgeting," said Tropicana.
To date, there had been a lack of branded offerings in the not-from-concentrate ambient juice category, it added.
Tropicana head of marketing Caroline Wilding said it was "important we deliver products designed to meet the needs of both our retailers and their shoppers".
"The launch of Tropicana into the ambient category will allow shoppers to enjoy the great quality and taste of Tropicana for longer and allow them to stock up on their favourite juice brand.
"For our retailers, we're pleased to help grow the category and increase basket spend as shoppers trade up to the brand in the ambient aisle," Wilding added.