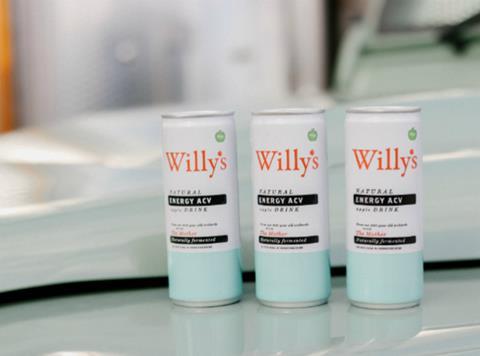 Tyrrells founder Will Chase is launching a hemp-based kombucha as he ramps up new gut-health venture Willy's ACV.
The brand made its debut 18 months ago with an unpasteurised cider vinegar available in a 50ml shot (rsp: £2.50) or 500ml bottle (rsp: £6.95). It this month launched Natural Energy ACV Apple Drink (rsp: £2.50/250ml), a carbonated blend of kombucha and apple cider vinegar, with no caffeine or added sugar.
It plans to add a straight-up kombucha made with hemp instead of black tea for a "more pungent, stronger" taste, in six to eight weeks, Chase told The Grocer. Plans are also afoot for a draught kombucha for the on-trade. "We've got some interesting ways to get bitters into it to make it an alternative to beer."
All Willy's ACV drinks are made from the same fermentation starter known as 'the mother' and apples sourced from the 300 year-old orchards surrounding Chase's farm in Ledbury on the Herefordshire/Gloucestershire border.
While they were likely to be ranged initially in health food segments, it was Chase's "long-term" ambition to sit alongside traditional energy drinks, he said.
The brand would tap both health-conscious younger shoppers' preference for "drinking better" and the UK's "massive swing towards no and low-alcohol", he added. "Not just traditional drinks with the alcohol removed but specific drinks that are fermented and good for you".
With its Natural Energy ACV listed by the likes of Selfridges, Planet Organic and Bayley & Sage, Willy's ACV would now produce NPD "as fast as we can" said Chase.
Scaling up won't be a problem: Willy's ACV had enough apples to increase production by "100 times", he added. "There's also a lot of old orchards in Herefordshire because the cider's peaked out. There's a lot of spare fruit around."
Willy's ACV is the "most exciting brand launch yet" from Herefordshire potato farmer Chase, who launched Tyrrells in 2002 before selling his majority share to Langholm Capital for almost £40m in 2008, when the brand's turnover reached £14m.
He used the proceeds from the Tyrrells sale to set up the Chase Distillery, which makes Chase Vodka and William's gin.