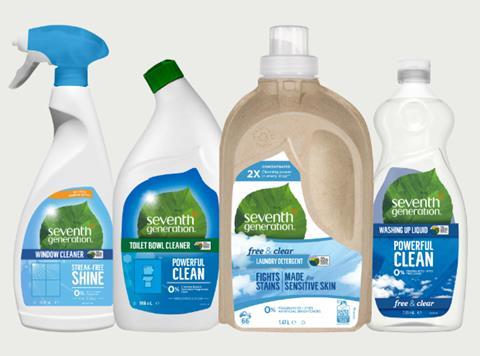 Unilever has announced the UK debut of Seventh Generation, the US eco-friendly household brand it bought two years ago for around $700m.
Intended to meet "rising demand from consumers who look for products that have a reduced impact on the environment", the lineup comprises biodegradable cleaning and laundry liquids made with 91% or more ingredients derived from plants. They come in packaging made from 100% recycled and recyclable materials – mainly high-density polyethylene and cardboard.
This week's launch into Ocado will see Seventh Generation take on the likes of Ecover. It comes as Unilever is committed to ensure all its plastic packaging is fully reusable, recyclable or compostable by 2025.
The seven-strong range of cleaning and laundry products includes Lavender & Blue Eucalyptus Laundry Detergent made from "100% essential oils and botanical extract" (rsp: £6/20 washes), All Purpose Cleaner (rsp: £3/650ml) that creates no "unpleasant fumes", and bleach-free Toilet Bowl Cleaner (rsp: £3/946ml).
British shoppers increasingly wanted "to do their bit when it comes to looking after the environment" said Gemma Cleland, vice president of homecare at Unilever UK & Ireland. "This launch reflects our passion to enable everyone to live more sustainably and consciously.
"We believe the launch of Seventh Generation is a step-changing move for the category, as we deliver a product range that is as strong on performance as it is on environmentally-friendly credentials," Cleland added.
Seventh Generation was founded in 1988 in Vermont as an independent brand, going public five years later. Acquired in autumn 2016 by Unilever for an estimated $700m (£536m), it was the "number one eco-friendly brand in the US" said Unilever.