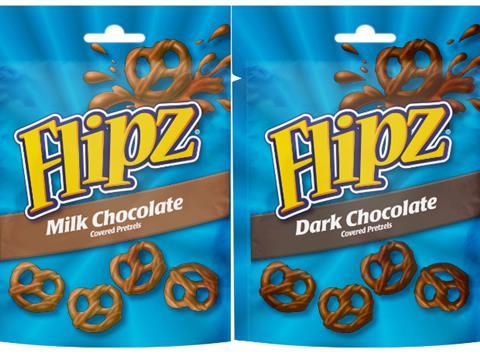 Popular US confectionery brand Flipz has made its UK debut, on the back of flourishing sales in its homeland.
Two variants of bite-size, chocolate-covered savoury pretzels, Milk Chocolate and Dark Chocolate (rsp: £1.50/100g), are rolling out from this week, making Flipz widely available to Brits for the first time in their 21-year history. They previously had only limited availability as a higher-priced US import but are now made in Topkapi, Turkey, and boxed in Edinburgh.
The bagged snack's "modern packaging, playful brand character and American heritage" would help drive value sales to £9m in the first in year in the mults, predicted Pladis, with an eye on young adult shoppers.
There was growing demand for sweet and savoury flavour combinations, said the supplier's new ventures business unit director Sarah Horowitz. "So far it has been largely limited to popcorn and nuts."
Flipz was well placed to tap interest in savoury snacks with chocolate, she added. "Chocolate-covered pretzels are a consumer favourite in the US, and we are excited to bring the Flipz brand and snacking experience to UK consumers."
The launch follows a "huge" popularity surge for Flipz in the US, where it is currently worth $61m, according to Pladis, having experienced double-digit growth over the past three years.
The brand was created in 1997 by Nestlé and later taken over by DeMet's Candy Company, which is now part of Pladis.