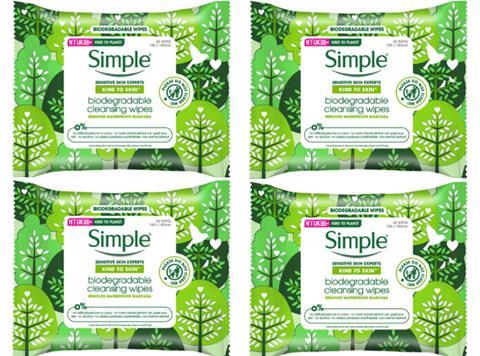 Unilever has unveiled Simple Biodegradable Cleansing Wipes – in what it claims is a UK mass market first.
Unlike the majority of wipes in retail, which contain plastic resins and synthetic fibres, the new product is made from renewable plant fibres and sustainable wood pulp. It promises to biodegrade within 42 days under home composting conditions – which was "better than oak leaves, pine needles and wood fibres" according to Unilever.
As with all Simple lines, the wipes (rsp: £4.39/25-pack) contain no artificial fragrance, colour, alcohol, parabens or phthalates.
The launch came in an effort "to tap into the growing consumer demand for environmentally friendly products". The new wipes "retain the same great skin cleansing proficiency as previous offerings from Simple, while helping consumers lessen their impact on the planet".
The NPD, available now, joins such environmentally conscious personal care products as The Body Shop Tea Tree Skin Clearing Facial Wipes, Aquaint Happy Planet 100% Biodegradable Wipes, and Yes To Cotton 100% Cotton Comforting Facial Wipes.
"At Simple, we understand that face wipes have an impact on our planet, so as the UK's number one brand of face wipes, we wanted to lead the way and create the first biodegradable face wipes in the mass market," said Unilever marketing director for skincare Georgina Bradford.
Simple has also outlined its ambition to move its other wipes to be biodegradable. "Consumers are faced with tough choices every day," Bradford added. "Choosing between taking good care of your skin or caring for the planet shouldn't be one of them."