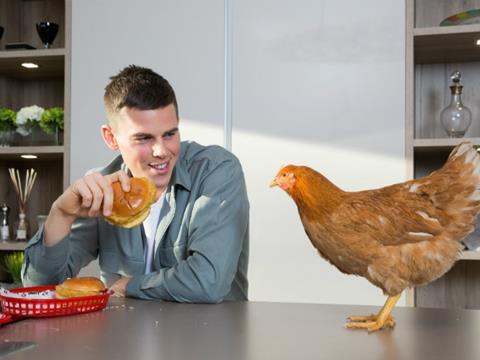 Scottish meat alternative brand Daring Foods has secured a distribution deal with Lomond Foods – in a bid to secure first-year turnover of £7m.
The brand's wheat protein-based meat, poultry and fish alternatives are set make their debut across 300 foodservice outlets in the first quarter of this year. The full range is vegan-friendly and comprises Fishy-free Fingers, Moo-less Meatballs, Moo-less Burgers, Moo-less Mince, Cluck-free Fried Burger, Cluck-free Strips and Cluck-free Nuggets.
The privately-funded supplier is also due to announce a deal with "one of the UK's biggest supermarket chains" next month, which will see its products go on sale to consumers nationwide, it claimed.
Production of its range used 75% less water, 92% less land usage and generated about 85% lower greenhouse gas emissions than the meat equivalents, said Daring. The products are also free from soy, palm oil and GMO ingredients. Instead, they are made primarily with wheat and potato proteins, with a range of spices.
The company was founded by entrepreneur Ross Mackay and business partner Eliott Kessas, a former corporate banker from Paris. The two have secured production facilities in the Netherlands, and had ramped up production in anticipation of further increased demand for its plant-based alternatives.
"As society makes the shift to a more plant-based diet, we are now well-placed to create and deliver options by creating delicious, nutritious and sustainable foods directly from plants. The market is there for the taking," said Mackay.
The company is also working with business advisory firm Johnston Carmichael to facilitate ambitious growth targets, which include distribution in more than 1,000 outlets by the end of 2019, and supplying the equivalent of 10% of the UK population with its range by 2020.
"Plant-based foods are one of the world's fastest growing new categories in food and drink and I expect this to continue through 2019," added Johnston Carmichael business development partner and head of food & drink, Adam Hardie. "Daring Foods combines a unique and market-leading product with a clear message that will resonate with this burgeoning market."