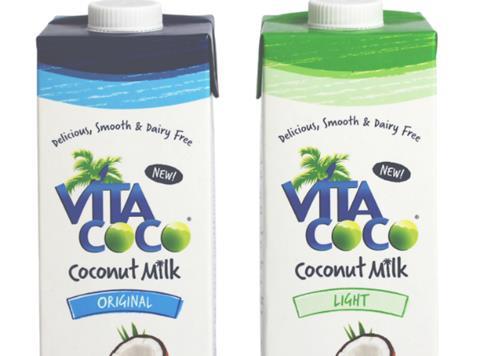 Vita Coco has poured its Coconut Milk into a Tetra Pak to expand the drink's presence beyond the chilled segment.
The new format allowed the milk alternative to be merchandised as an ambient product without the need for reformulation, said Vita Coco. The one-litre pack will roll out next month with an rsp of £2.49 – 50p less than the drink's chilled version in a PET bottle of the same capacity. The difference in price was down to chilled distribution being slightly more costly, the brand said.
The Tetra Pak format was to appeal to the third of shoppers who "only buy their dairy alternatives from the ambient aisle" according to Vita Coco EMEA CEO Giles Brook. Chilled coconut milk was growing in value at 39.2% year on year, he added, whereas ambient was "only growing at 16.2%".
Vita Coco made its dairy alternative debut in March 2017 with Coconut Milk, to challenge Alpro's dominance in the category. Made from a coconut water base enriched by coconut cream, the drink arrived in a one-litre plastic bottle designed to resemble a traditional glass milk bottle. The Original variant was joined in December by Light, providing 1g of fat and 20 calories per 100ml.