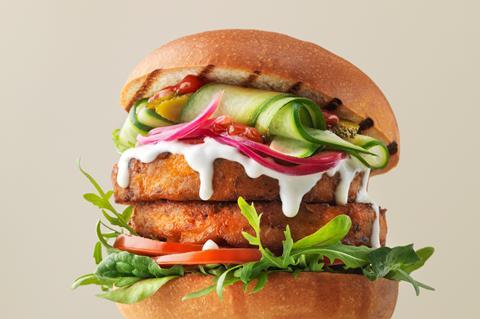 Waitrose has expanded its plant-based lineup with what it is claiming to be the first seitan burger to hit UK supermarkets.
Its new own-label seitan patty went on sale last week (rsp: £2.99/227g) and is made from a mix of seitan (a protein-rich food made from wheat gluten) and 32% mushrooms.
The launch comes as demand for vegan dishes continues to rise, with searches on Waitrose.com for vegan burgers up 86% on this time last year, and seitan searches up by 148%.
There had also been a growing trend for vegan barbecue products, with searches up by 175%, Waitrose said.
"We're excited to be launching the first seitan burger," said Waitrose vegetarian & vegan product developer Simona Cohen-Vida. "The modern barbecue is an inclusive affair with delicious products catering to all tastes and demands and we are thrilled to be able to offer a fantastic selection of vegan options."
The retailer has also launched a new vegan Korean-inspired vegetable burger (rsp: £2.75/227g) inspired by the trend for lightly pickled vegetables and containing "vibrant, punchy Korean flavours".
Also new to the range is a Mediterranean-style sausage whirl, available in two flavours. An Italian-style whirl contains aromatic roasted garlic, fennel, basil, porcini powder and sun-dried tomatoes, while the Spanish-style version boasts a smoky flavour that comes from Spanish paprika, cumin, roasted garlic, chilli flakes and sun-dried tomatoes (rsp: £2.99/300g).