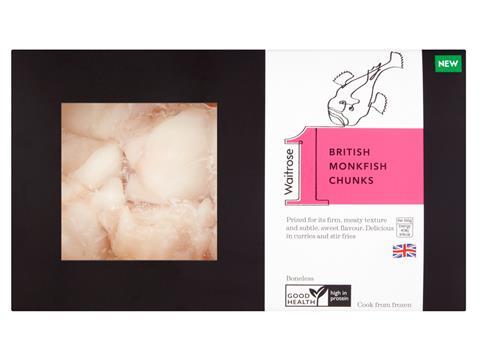 Waitrose has introduced monkfish, hake and halibut to its frozen aisle for the first time as part of a new supply deal with Grimsby-based supplier Flatfish.
The retailer this week rolled out wild-caught British monkfish chunks (rsp: £6/300g) and Norwegian-farmed halibut fillets (rsp: £6.50/280g) under its premium tier Waitrose 1 label.
It has also debuted an MSC-certified British hake (rsp: £3.50/280g) fillet line under its standard tier, featuring 'good health' and 'high protein' signposts, in addition to an MSC-certified British cod SKU (rsp: £4.50/280g).
The launch of the monkfish, hake and halibut lines marks the first time Waitrose has sold the products – normally fish counter staples – in frozen, and comes as part of an expansion of its frozen fish offering.
The ready-to-cook fillets offered high sustainability and traceability credentials alongside the convenience of frozen, said Waitrose.
The halibut is set to be sourced from Norway-based Sterling White Halibut, which claims to be the only halibut farm to have achieved Global GAP accreditation, demonstrating aquaculture best practice.
But the rest of the range is wild-caught off British cold water shores, said Waitrose
"We are thrilled to be offering frozen British fish, caught by British vessels, many of which are crewed by fishermen bought up by generations of fishermen and holding this tradition is an important part of their way of life," said Waitrose grocery and frozen buyer Michael Simpson-Jones.
"Many of these vessels have also committed to the Responsible Fishing Scheme, which sees the best possible fishing standards demonstrated within the industry, which is something we care about greatly".