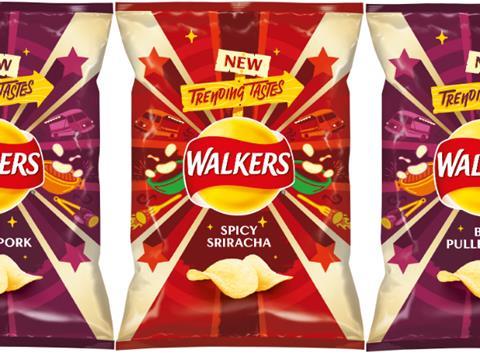 Walkers has added two on-trend variants to its core potato crisps in an effort to "modernise" the range.
BBQ Pulled Pork and Spicy Sriracha comes after Walkers "used insight tools to identify flavour trends that are emerging throughout Britain" – with the new duo coming "top of the list for 2019".
The NPD would appeal to Brits' "evolving" palate, the snack giant said. "According to research, 45% of UK shoppers are likely to experiment with new flavours, with global influences coming from both America and Thailand. With Sriracha sauce sales growing 8% year on year, these new flavours will help retailers capitalise on this growing opportunity."
BBQ Pulled Pork and Spicy Sriracha will be available throughout 2019, across single and multipack formats, backed by a "high-impact" TV and digital campaign featuring Gary Lineker and a "mystery celebrity guest".
The launch comes after Walkers kicked off 2019 by unveiling a new look across its core range – which the snack giant claimed was its biggest design change of the past 10 years. The revamped bags feature "a more premium finish" and the addition of the front-of-pack strapline '100% Great British potatoes'.
Next month will see the supplier kick off an on-pack promotion for 16 weeks, to mark its continued sponsorship of the UEFA Champions League. 'They Score – You Win' will offer football fans the opportunity to win prizes by predicting when a goal will be scored during a Champions League match.