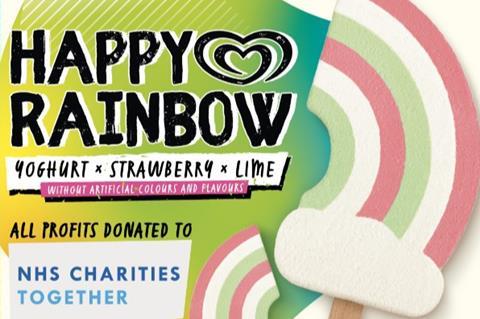 Wall's has launched a limited-edition 'Happy Rainbow' ice cream which will donate 100% of its net profits to the NHS.
The NPD is billed as "a delicious combination of yoghurt and strawberry and lemon and lime ice cream", which will join the brand's 'Responsibly Made For Kids' range (rsp: £2/90ml).
It will be sold in custom packaging featuring "rainbow drawings created and displayed during lockdown".
"The NHS has truly gone above and beyond during this difficult time and the renewed recognition of their service to our communities really inspired us to create this product," said Unilever ice cream brand experience director Jennifer Dyne.
It comes as Wall's recently expanded into Greek yoghurt ice creams with a new brand called Guuud, which rolled out in three flavours – Salted Caramel, Blueberry and Raspberry – in June, offering just 84 calories per serving.