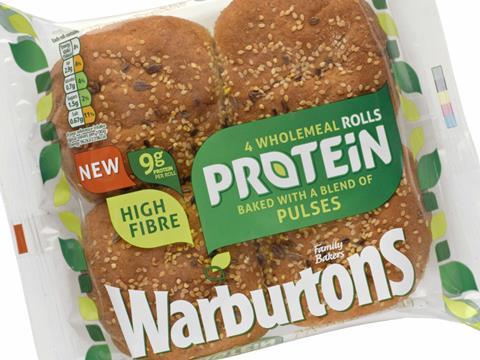 Warburtons hopes to push the protein trend yet further into the mainstream via a four-strong range of bread products.
The Protein wholemeal quartet comprises a 400g bagged loaf and four-packs of rolls, sandwich thins and soft wraps. Each is enriched with a combination of chickpeas, haricot beans and pea protein to offer between 7g and 10g of protein per serving, depending on variant.
A regular loaf of Warburtons wholemeal bread provides 5g per serving of two slices, while a single brown wrap contains 7.8g.
The launch is the latest from a growing number of big-name brands that are seeking to move added-protein products out of health food stores and into high street supermarkets.
The NPD – the first of its kind from a major UK bakery brand – was intended to be "as mainstream as possible", said brand innovation director Darren Littler. "We have a duty to give consumers what they're asking for. Protein is a macro trend – and there's strong appetite for it in an accessible range."
Creating accessibility was also spur for pricing. While many high-protein products carry a premium price point, Warburtons put a £1.20 rsp on its new range – set to roll out to supermarkets from 5 September – to reflect both the bakery's intention to appeal to regular shoppers and the relatively modest protein levels, Litter added.
"If we were aiming at a specialist market like bodybuilders, the price would be much higher because the level of protein would be through the roof," he said.