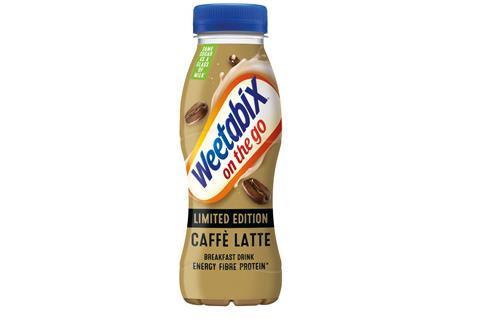 Weetabix has sought to reinvigorate sales of its breakfast dairy drinks with the addition of a limited-edition Caffè Latte variant to its On The Go lineup.
Made using Colombian coffee and containing 37.5mg of caffeine per 100ml, the breakfast brand said the NPD offered a "convenient two-for-one combination" for morning occasions.
It has begun to roll into wholesale and convenience channels in £1 price-marked 250ml packs and is set to become available for retail listings from July.
Weetabix said the move had partly been prompted by the growth in popularity of coffee flavourings in recent times. According to Kantar data, the flavour is now worth £34.5m to the dairy drinks category, with growth of 18.1% [Kantar 52 w/e 12 July 2020].
"We're confident that there is a huge opportunity in the months ahead for breakfast drinks, both at-home to suit our busy mornings or whilst on the move when things open up again," said Weetabix general manager for On The Go, Emma Varlow.
"We want to offer shoppers a product that delivers on taste and meets the demand of the growing sector, which is why we'll continue to invest in digital media and shopper activity in the months ahead to amplify this launch."
Varlow suggested that if the product performed strongly, it could become a full-time addition to the On The Go range.
It comes as Weetabix's breakfast drinks division seeks to bounce back having seen sales tumble due to the pandemic.
Value sales fell from £14.2m to £9.9m year on year – a drop of 30.5% – while volumes fell 31.4% [Nielsen 52 w/e 2 January 2021] as Covid-19 lockdown restrictions led to a fall in on-the-go consumption.
Varlow said she was hopeful the market would recover as lockdown eased. "We saw a recovery back in September when kids went back to school and things went back to normal. There's no reason why we won't see that again this year," she said.
Weetabix's On The Go arm has also ramped up its targeting of the convenience and independent retail sectors in recent months through the hiring of an impulse channel team.
"We want to cover all our channels as much as possible. Our breakfast drink is a great opportunity for smaller stores and independents who might not have a breakfast offering as such," she added.