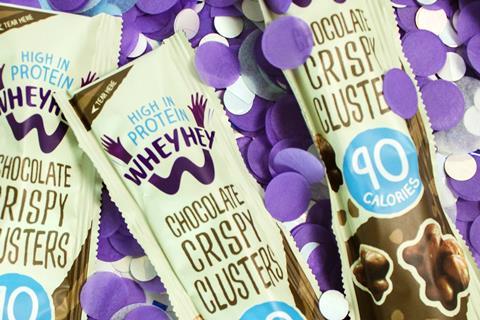 Healthy snacking brand Wheyhey is to make its debut in confectionery with Chocolate Crispy Clusters – offering reduced calories and high protein.
The result of 18 months' development, Clusters (rsp: £1/20g) are made with whey and pea protein, and sweetened by maltitol and sugar. Each 100g provides 449kcals, 4.9g of sugar and 10g of satfat, as well as 22.7g of protein.
Packed in a 'tear and pour' sachet, the NPD would take on better-for-you snacks that "over-promise and under-deliver on both taste and health benefits" Wheyhey said. Clusters were "the perfect snack for the health-conscious individual craving an indulgent fix".
They are set to roll out from 1 May to WH Smith Travel stores as "the only low-sugar, high-protein product" of its kind – marking Wheyhey's second venture beyond the frozen aisle.
The brand made its debut in 2013 with a range of ice cream free from sugar and high in protein. Variants are available in Tesco and Sainsbury's – while Asda became the first grocer in February to list Wheyhey's brownie lineup.
The brand's first venture into ambient, the three-strong range of brownies – Chocolate Peanut, Chocolate Orange and Chocolate Coconut – launched in April 2018, promising "the soft gooiness of a traditional, less good-for-you brownie". Each 40g bar (rsp: £1.80) contains 1.9g of sugar and as much as 11.1g of protein.
Their launch came about three months after Wheyhey secured £3m from UK investment syndicate Adjuvo, supported by the likes of former Weetabix CEO Giles Turrell, Little Dish founder John Stapleton, Saga CEO Lance Batchelor and Mothercare chairman Alan Parker.