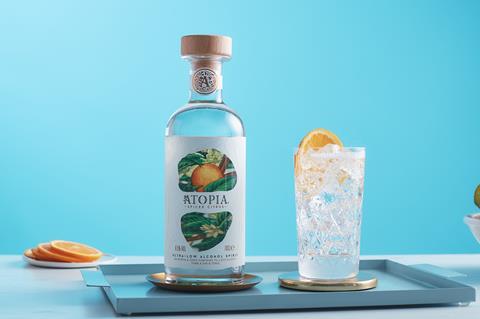 William Grant & Sons has launched its own challenger to the likes of Seedlip with Atopia, the whisky giant's first 'ultra-low alcohol' spirit.
The drink is made from 'natural distillates, flavours and extracts', according to William Grant, and comes in two flavours, Spiced Citrus and Wild Blossom, which hit Sainsbury's and Ocado this week (rsp: £25/70cl)
Spiced Citrus is billed as reflecting "the taste of the seasons" with "zesty citrus, gentle spice" and "a refreshing and rounded finish". Wild Blossom combines "green apple", "floral notes" and "a hint of smokiness".
Its development was "inspired by the more mindful lifestyle choices of today's consumer", said the brand's master distiller Lesley Gracie. "The distillates have been selected and combined with care and precision, meaning you can pick out each flavour separately while no one flavour dominates the other."
Just last week fellow whisky maker Whyte & Mackay made its own move into lighter drinks. However, rather than releasing a low or non alcoholic spirit, it launched a 20% abv version of its core whisky called Whyte & Mackay Light.
It comes as the low and no-alcohol category is thriving all across Europe. According to figures from Zenith Global, the European market for virtuous drinks hit €5.9bn in 2018, with its value predicted to hit €9.3bn by 2023. Of all the European markets, Zenith said the UK was expected to see the highest annual volume growth of approximately 30% per year until 2023.
The category had "moved from reluctant compromise to positive engagement", said Zenith Global chairman Richard Hall.