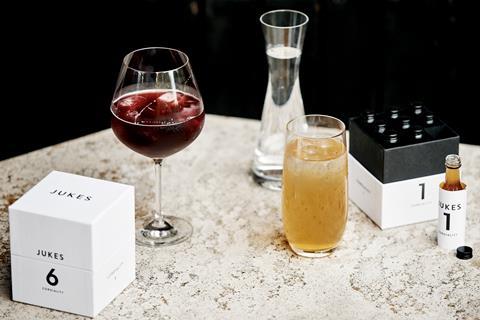 Wine writer Matthew Jukes has started his own non-alcoholic drinks brand, called Jukes Cordialities.
The brand, founded by wine writer Matthew Jukes and his friend Jack Holihan, has debuted with two 'Cordialites' it claims are "a new category of drink".
They are billed as having an "uncommon texture, flavour and richness on the palate", and are designed to be diluted before serving: the brand suggests mixing one-part Cordialites to 10 parts still, sparkling or tonic water.
Jukes 1 is "centred around a citrus and herb theme", designed to be uplifting, clean and bright, while Jukes 6 is "fruiter, deeper and spicier" with a "more mellow, earthy flavour".
The cordial duo had been designed for "people who want to maintain their high standards of taste and pleasure, even when they are not indulging in alcohol", said the brand.
Jukes 1 comes in at 15 calories per serving, while Jukes 6 contains 18 calories per serving. Jukes said it was "critical" for him to ensure the drinks were low in calories and "suited to everyone conscious of their own wellbeing".
They are available online via the brand's website (rsp: £35/9x30ml).
William Reed – the publisher of The Grocer – has launched a new trade exhibition exclusively for the low and no-alcohol sector. For more information visit low2nobev.com