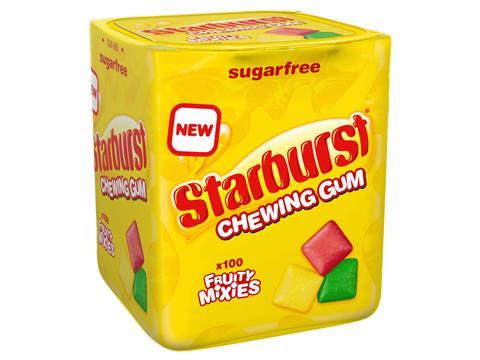 Wrigley plans to bring "a candy-like experience" to the gum category with the launch of sugar-free Starburst Chewing Gum.
Focusing on the 'enjoyment' appeal of gum, rather than breath-freshening or oral care, three types of Starburst Chewing Gum had been created "to provide consumers with a sugar-free treat alternative which bridges the gap between gum and candy". This was a UK first for gum, claimed Wrigley, calling Starburst Chewing Gum its biggest launch in almost six years.
Rolling out later this month, crispy-coated Mixies pellets come as an assortment of strawberry, apple and bubblegum flavours in a number of formats (rsps: 49p-£2/24-100 pellets). They will be joined on shelf by red berry flavour Sticks (rsp: 49p/five sticks), with Soft Cubes in strawberry and red berry variants available later in the year.
Expected by Wrigley to grow the UK gum market by £15m over the next three years, the new range is targeted at shoppers aged 15 to 24.
It will be backed by a £1m spend from late March – entering a gum category that last year lost 3.8% of its value sales, falling to £261m [Nielsen 52 w/e 9 September 2017].